Fort-de-France - the capital of Martinique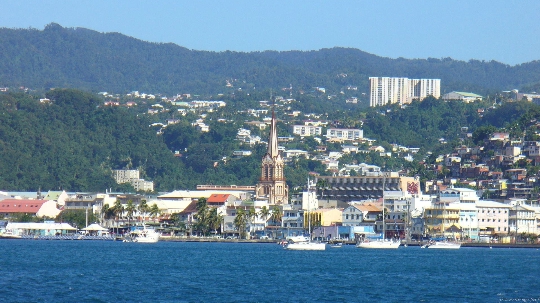 The capital of Martinique is not a capital in the usual sense, it is the administrative center of the overseas territory of France. But Fort-de-France is one of the largest French cities in the Caribbean.
And even the name of this city, Fort-de-France, clearly speaks of its main function. The first part of the name «od» means a fort, the main mission is defense, this is facilitated by a convenient location between the sea and the hills, at the mouth of the river with the French name - Madame. Tourists note that there are good roads along the Martinique island, and they all lead to the so-called capital..
Green fairy tale
In tourist brochures, you can find a beautiful legend that the great navigator Christopher Columbus made the geographical maps of the Earth richer by one more island, since he discovered Martinique. Seeing the amazing natural landscapes, he called this area the most beautiful in the world. Thousands of tourists who come to this piece of paradise from different continents agree with him. In the memory of the guests and in the photo remain:
snow-white, gentle stripes of beaches;
azure sea spaces;
fishing on the high seas;
amazingly mysterious world of the underwater kingdom.
At the same time, travelers are especially pleased with the developed tourist service - there are hotels of various levels, gorgeous beaches, diving training centers, opportunities for practicing various sports.
Indian landmarks
These territories were once inhabited by various Indian tribes. Artifacts associated with their lives, modern tourists can contemplate in the Museum of Archeology, located, of course, in the main city of the island. The exposition demonstrates household items used by ancient inhabitants, wooden and stone tools. Ancient and modern art is presented, including statues decorated with engravings used in religious ceremonies. A small souvenir shop operating at the museum will allow you to stock up on gifts for relatives and friends.
Flower heaven
Another amazing place in the main city of the island is the Flower Park. Here are collected not only small flowering plants, but also shrubs, and exotic palms, and even eucalyptus. It is interesting that in the Park of Flowers you can not only admire the beauty of the flora of Martinique, but also make purchases of products from farmers and fishermen. There is also a shopping arcade selling souvenirs and outlandish local handicrafts..
Photos