Holidays in Morocco in August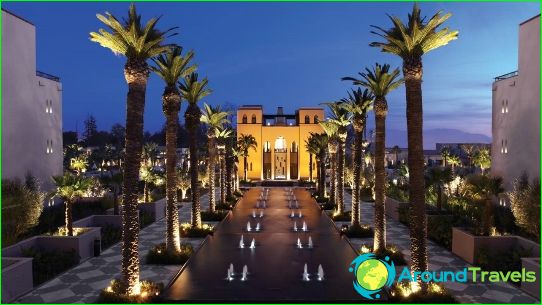 A familiar summer can almost instantly turn into a fascinating oriental fairy tale with an African flavor, if you just buy a ticket to Morocco. This amazing country warmly welcomes every tourist, perhaps the level of service cannot yet be compared with the Egyptian leader of the tourism industry..
But the attention of the staff is guaranteed, beautiful landscapes are found at every step, and the magic spectacle of the setting sun remains in the memory for a long time. These are the experiences that a vacation in Morocco will give in August.
Coastal weather
The temperature regime remains at the same level, fluctuations in the thermometer column by 1–2 ºC in one direction or another are almost invisible. Rains are unlikely, all rest will take place in clear sunny weather.
The most popular resorts in Morocco delight with the following temperatures: Agadir - in the afternoon +26 ºC, at night +18 ºC, Casablanca, respectively, +25 ºC and +20 ºC. Those looking for hotter weather can go to Marrakech, where during the daytime +36 ºC.
Legendary Casablanca
The name is well known from the film, which was included in the golden fund of world cinematography. Now any tourist who wants to see a wonderful kaleidoscope of national traditions and modern service can come to Casablanca.
It is here that the Hassan II Mosque is located, famous for the tallest minaret in the world, which is the main attraction of the city and attracts crowds of tourists. True, it is impossible to get inside, but its external beauty defies description..
Naturally, the center of attention of the guests of the city is the Old Town, which is called here Medina. Having barely entered a narrow street, tourists are immersed in the oriental flavor of an ancient confused town. There are many narrow and crooked alleys, donkeys harnessed to carts, souvenir shops and snow-white houses. Knowledgeable people will explain that the name of Casablanca translates as «White City».
The taste of Morocco
Traveling through this amazing country, which combines East and West, a tourist should definitely get acquainted with Moroccan cuisine. Only this should be done not in the center of resort life, where everything is adjusted to the guests, but to find a cafe in the depths of the city, on one of the old streets, where the locals themselves like to sit.
It is in such a place that you can feel the real aroma of mint, which is brewed together with green tea and sugar is added when serving. For something more satisfying, ask for tagine, a delicious meat dish prepared in a ceramic pot filled with local spices and herbs. And, of course, couscous, of which there are thousands of recipes, and each of them is good in its own way..
Holiday photos in Morocco