Prices in Oslo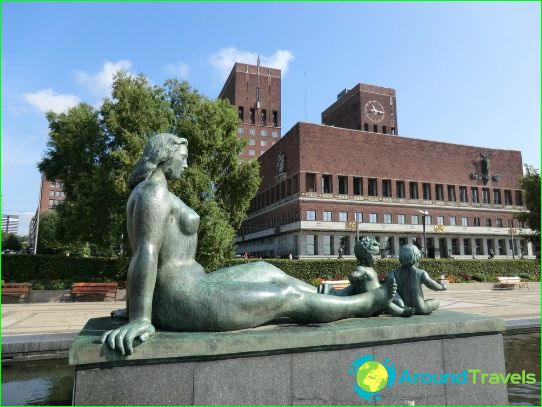 The largest city in Norway is Oslo. The capital of the country is famous for its sights. Oslo is an expensive city second only to Stockholm. It is considered the business center of the state, therefore it has many well-equipped hotels serving guests of business conferences and exhibitions. The prices in Oslo may seem too high to tourists. But they are quite natural, because the standard of living in Norway is consistently high.
Prices for services and goods rise even higher in the fall, during the Nobel Prize ceremony. In Norway, they use their own money - Norwegian kroner. If you do not want to buy crowns in advance, take the euro with you. Rubles in Oslo can be exchanged for crowns only in large banks.
Accommodation in Oslo
The capital of Norway is more of a business center than a tourist city. Therefore, travelers on a budget have some difficulty in choosing a hotel. Oslo hotel room prices skyrocket in autumn.
To save on accommodation, it is better to rent a room in a hostel. Good hostels provide guests with comfortable rooms with a shared kitchen and bathroom. You can rent a room in a hostel located in the city center for 20 euros per day. There are prestigious hotels in the central part of Oslo. Room prices are much higher there than in hotels on the outskirts. The cost of a standard room in a good hotel starts at € 100 per night. Tourists on a budget can rent a room in a multi-bed budget hotel. If you want to experience local customs, rent a room or apartment in Oslo. You can rent one room in an apartment for 90 euros per day.
Excursions in Oslo
Tickets to the main museums in Oslo are quite expensive. Large expenses for tourists are also associated with transport services. If you are on a budget, try to visit free attractions. For example, such a place is the National Gallery.
The cost of excursions in the capital of Norway depends on the route and the number of participants. A walking tour of Oslo for 2-3 hours will cost 200 euros.
Tourist food
Groceries are expensive in Oslo. Food in a restaurant will be even more expensive. Tourists are primarily interested in Norwegian cuisine, which is considered one of the highest quality in the world. Many dishes are based on fish. Pastry and meat dishes are also popular. In the restaurant with national cuisine, you can try pork ribs with cabbage, smoked meats and sausages from elk and reindeer. In a cheap restaurant, the main course costs about 150 CZK. In a more expensive establishment, a meal for one person will cost 250 kroons. You will have to pay 350 CZK for a bottle of wine.
Oslo - sightseeing tour

Photos