Tours in Oslo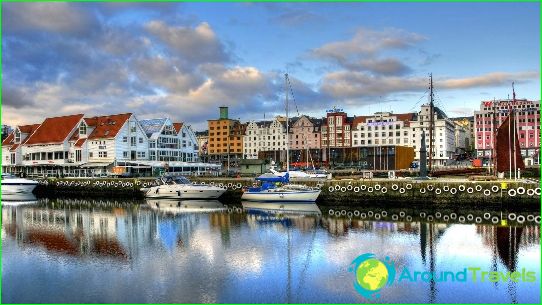 The capital of the Viking country attracts travelers interested in history and preferring fresh northern beauty to the hot beaches of Asia, tormented by the sun. Once the city consisted of a pair of fortresses, from the windows of which the king and the bishop looked at each other, and today tours to Oslo are an opportunity to get acquainted with one of the largest capitals of the Old World and start a journey through the famous Norwegian fjords.
History and geography
The location of the Viking capital is the northern end of the Oslofjord in the southeast of the country. Oslo can be called a city of lakes, because there are more than three hundred of them on its territory, and each is a source of the purest drinking water..
In the Norwegian old legends-sagas about Oslo it is said that it was founded in the middle of the 11th century by the King of Norway Harold the Severe. He was an aggressive person and all the time tried to conquer someone. As a result, he paid for his bad character and died while trying to seize the British throne. But Oslo remained and began to develop rapidly. During the Middle Ages, it became an important trading port with strong ties with Hanseatic merchants. It was proclaimed the capital a year before the onset of the XIV century. Then there were fires and wars, Oslo died and was rebuilt to become today home to almost seven hundred thousand Norwegians..
Briefly about the important

Tour participants in Oslo can choose a direct flight from the capital of Russia, which lasts 2.5 hours, or get with connections in other Scandinavian capitals. From the international airport to the city, guests are delivered by high-speed trains or vehicles. In summer, tours to Oslo can be combined with cruises in Scandinavia by visiting other northern cities and countries on a sea ferry or ship..
The unified ticket system allows you to use one travel document for all types of public transport during a tour in Oslo. It is valid for buses and ferries, trams and T-metro lines. Taxis in the capital of Norway are not cheap.
The city may seem quite expensive, like the whole of Norway, in principle. In order for the travel budget to stay within the reasonable limits, it is worth looking for a simpler hotel, especially since the comfort and level of service here depends little on the stardom. Restaurants, where the cost of the dish will be no less pleasant than the quality, are located on side streets, away from the main tourist routes..
The climate guarantees the Oslo tour participants cool summers and mild winters with lots of snow. Even in July it is usually not hotter here +25, and in winter thermometers rarely drop below -10 degrees.
Oslo - sightseeing tour

Photos