Holidays in Norway in June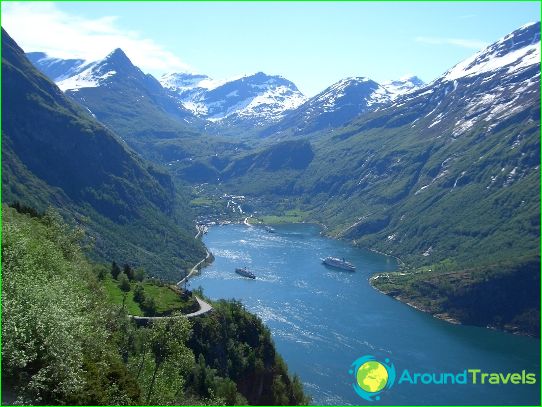 The most comfortable capital of the northern part of Europe, picturesque fjords, interesting excursions and exotic Norwegian fishing - all this attracts many tourists to the country. Holidays in Norway in June will provide an opportunity to forget about the hectic life of the metropolis, enjoy the peace and quiet.
Weather in Norway in June
The first summer month greets tourists with rather warm (by Norwegian standards) weather. But the difference in temperature between the south and north of the country is large. Therefore, depending on the choice of the place of rest, you should complete a suitcase.
Forecasters claim that the average daytime temperature in June in Norway is +16 ° C, nighttime +9 ° C, the water temperature is good only for cold-blooded creatures +10 ° C.
Saint Hans night
Norway, located so far from the Slavic territories, nevertheless has one amazing holiday that coincides with the well-known holiday of Ivan Kupala. Only in these places does he have the Norwegian name Hans, and is celebrated on June 23.
On this day, in many places in Norway, according to the well-known tradition, bonfires are lit, only old boats are not burning firewood. In the northern regions, they are in no hurry to start a fire, «midnight sun» and so it illuminates everything around.
Friendship apart
Many tourists believe that the countries of the Scandinavian Peninsula always act as a united front and stand behind each other like a mountain. This is not the case, and the holiday on June 7, which is celebrated in Norway, confirms this. On this day, more than a hundred years ago, the union with Sweden was dissolved. This is not just a holiday, this is a flag day. On June 7, the whole of Norway is decorated with symbols of independence - national flags.
Oslo Walking Tour
In the northern capital, a tourist will find many amazing and beautiful places, wonderful architectural complexes. Many people start their journey around the city with a visit to the Royal Palace, built 200 years ago. In addition to the palace building itself, there is a large park, ponds, lakes, monuments and sculptures. Excursions are organized around the palace in May..
Akershus Fortress and Castle is a masterpiece of Norwegian architecture and the most visited place among city guests. An elegant palace complex is hidden behind the massive walls of the fortress. The ceremonial halls, the chapel, the museum, which will acquaint you with the history of the palace, are noteworthy. By the way, the entrance to the fortress is free for everyone, but for visiting the ceremonial halls or the museum you will have to part with a certain amount of crowns..
Photos of holidays in Norway