Norway drinks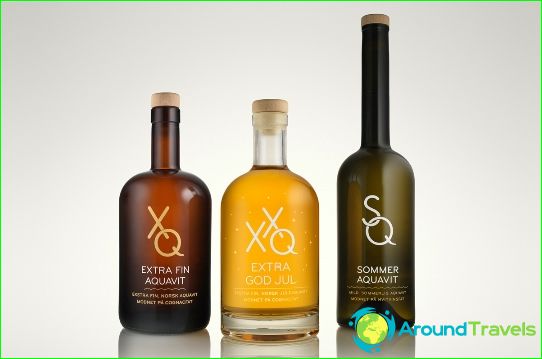 The country of fjords and trolls, Norway pleasantly surprises with the purity of nature and streets, the transparency and suitability of any water and the thorough approach of its inhabitants to nutrition. That is why Norwegian cuisine and drinks are especially popular with people who are accustomed to a serious approach in solving even frivolous issues..
Norway alcohol
The customs regulations for the import of alcohol into Norway are very strict. For one person over 18 years old, it is allowed to have no more than a liter of spirits and the same amount of wine or two liters of wine and beer. This is used by the guests of the country, given that Norway's alcohol in local outlets is quite expensive. You can buy alcohol stronger than beer by degrees only in specialized stores, and a standard bottle of vodka in them will cost at least 50 euros (prices at the beginning of 2014). A bottle of dry red wine of average quality will require you to pay about 20-25 euros, and for a can of beer - $ 5. The prices in restaurants and bars are absolutely exorbitant, and therefore it is quite profitable to buy in duty-free the norm of strong drinks allowed to be transported into the country in the case of Norway..
Norway's national drink
Potato-respecting Norwegians use their favorite vegetable to produce the main alcoholic «dishes». Norway's national drink is called «Aquavit», what in Latin means «living water». Potato alcohol with a strength of up to 50 degrees for a long time insists on the collection of herbs and spices, which makes it brownish or yellow..
The most Norwegian of the Scandinavian Aquavites has the prefix in the name «ligne». It means that the drink ... crossed the equator twice. To do this, cherry barrels with aquavit are loaded onto ships that go to the southern hemisphere and preferably to the shores of Australia. In motion, the drink absorbs cherry woody notes and becomes especially velvety in taste. «Aquavit-Linier». Real Norwegians prefer to consume aquavit in very chilled pure form..
Norway alcoholic beverages
Due to the special alcohol policy, all alcoholic beverages in Norway except beer can only be sold in Vinmonopolet stores. These are special outlets controlled by the state. They are located only in cities, and their opening hours are very limited. There is no alcohol trade in Norway on weekends and holidays.
Photos