Palau Islands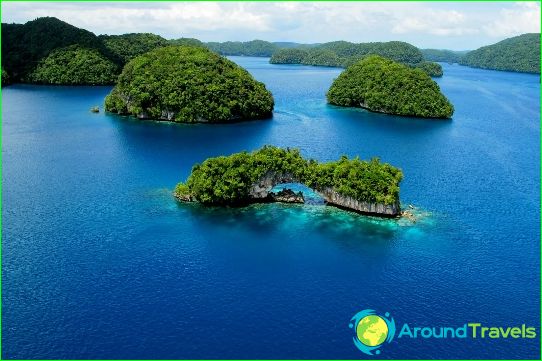 The coral reef of Palau is one of the most beautiful places on the planet. It is also called Belau. The amazing islands of Palau were formed approximately 2 million years ago. The region has a varied geology. Among the islands there are volcanic formations and atolls. The highest islands rise 214 m above sea level.
Palau's reef is not the largest in the world, but its islands are very picturesque. Visibility in coastal waters exceeds 60 m, so the ecosystem of the islands is open to divers in all its glory. Rocks and corals are located under the water, which form a stunning combination. The Palau Islands are the result of volcanic activity in the Ring of Fire in the Pacific Ocean. The area is still considered seismically dangerous. Earthquakes happen here very often.
The archipelago includes many small islets. There are a total of 328 islands with an area of ​​428 sq. km. They are located in the Philippine Sea and are considered US territory..
Historical reference
The population appeared on the islands more than 2 thousand years BC. Immigrants from Indonesia were the first to arrive here. The Europeans came to Palau in 1543. The islands were ruled by the Spaniards for many years. Then they went to Great Britain, and then to Germany. In the 20th century, Palau came under Japanese control and became the main naval base for the Japanese during World War II. After the US victory over Japan in this war, the islands passed to the Americans. In 1981, the Republic of Palau declared its independence to the world.
The natural diversity of the islands
Biologists have conducted a number of studies in the Philippine Sea and have found more than 700 species of coral and over 1,500 species of fish there. The Palau Islands are renowned for the wealth of their underwater world. There are butterfly fish, sea turtles, dolphins, whales, squids, octopuses, etc. Near the islands there are predators: sharks of various species, rays, manta rays, etc. Palau's ecosystem is extremely sensitive. To preserve the unique nature, local authorities have banned any construction work in the area..
Climatic conditions
The Palau Islands are located in the equatorial and tropical climate zone. The rainy season lasts here from May to late autumn. The air temperature varies slightly from season to season. The average annual temperature during the day is +29 degrees. The islands are humid and hot. The water temperature in any season is approximately +26 degrees. The archipelago is not prone to typhoons. Winds form mainly from June to December.
Photos of Palau Islands