Shopping in Warsaw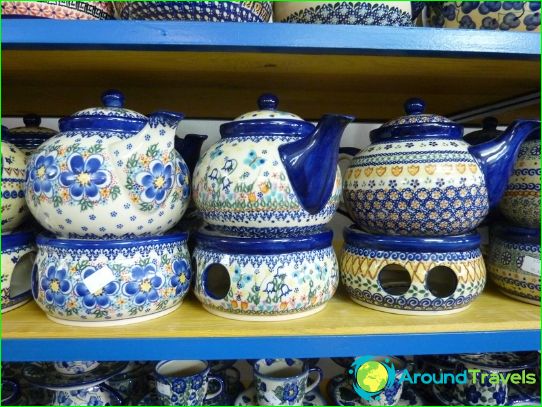 Souvenirs in Warsaw
Warsaw is not only the capital of Poland, but also one of the most attractive cities in Europe for shopping. When planning a visit to Poland, it is worthwhile to determine in advance what to bring from Warsaw - this will help save precious time when looking for gifts for family and friends..
What to bring from Warsaw?

Clothes and shoes. A large number of large shopping centers are located in the center of Warsaw, for example, Real M1, Klif, Blue City, Sadyba Best Mall and others, each of which presents many Polish and foreign fashion brands. Polish-made leather shoes and bags are well-deserved. The cost of the products is quite affordable, and the quality is excellent.
The must-have list includes traditional Polish souvenirs. The largest number of shops and shops with a variety of souvenirs is concentrated in the Market Square. Here folk craftsmen and craftsmen will offer you: siren figurines - copies of the city's defender, painted wooden dolls, Easter eggs, small paintings with views of Warsaw. And, of course, magnets, key rings and many other memorable little things. Embroidered napkins and tablecloths, as well as linen products - bedding, tea towels, potholders, as well as folk costumes.
Alcohol, cheeses, sausages and honey. Among alcoholic beverages, the most noteworthy are «Zubrovka», Polish wine and beer-gzhanes. In Poland, ossipiek, oshtyepok and bunza (feta cheese) sheep cheese is very popular. Among the sausages are the famous Krakow sausages, uncooked smoked frankfutters, cabanos. Polish honey is distinguished by its delicate taste and unsurpassed aroma.
Amber jewelry. It is better to buy jewelry, paintings and jewelry made of Polish amber in brand shops, do not forget to keep your purchase receipt in order to avoid problems at the border.
Salt lamps - they are brought from the city of Wieliczka, where the salt mines are located. If you are concerned about the question of what to buy in Warsaw as a gift to friends and family, remember that such a lamp will become not only a memorable, but also a useful souvenir, since its radiation has a beneficial effect on the human body..
This is just a short list of useful and memorable things that can be brought from Warsaw, in fact, purchases are limited only by the thickness of your wallet and the size of your suitcase..
Warsaw Poland)

Photos of shopping in Warsaw

Souvenirs in Warsaw