Where to eat in Warsaw?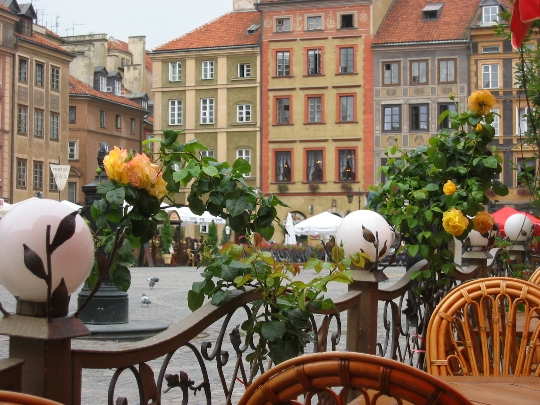 While vacationing in the capital of Poland, many travelers will have a very reasonable question: "Where to eat in Warsaw?" There are economy-class cafes, expensive and mid-level restaurants at the service of the guests of the capital. Regardless of which of the traditional food outlets you enter, delicious, hearty and large portions of food will be waiting for you. In authentic places you should try krupnik (soup with smoked meat and vegetables), grochowka (pea soup), zurek (soup with egg, sausage and potatoes), rosol z kurczaka (chicken broth with noodles).
Where to eat in Warsaw inexpensively?
You can eat inexpensively in the city in fast food establishments - KFC, Burger King, McDonalds, Dunkin' Donuts, as well as in dairy bars (here they serve homemade food at very affordable prices) - Uniwersytecki, Familijny, Pod Barbakem, Zlota Kurka, Rusalka, Prasowy.
You can dine on a budget at Zapiecek, which serves traditional Polish dumplings with various fillings (cheese, potatoes, cabbage, mushrooms, meat). In addition, you can order Polish soups, salads and desserts here..
If you decide to enjoy donuts, cakes, sorbet, ice cream with tea or coffee, visit the inexpensive cafe Caf Vlikle. In addition, here you can order hot snacks, Polish and French dishes..
Where to eat in Warsaw delicious?

Belvedere: This restaurant specializes in Polish and international cuisine. Here you should try beef tartare with pickled chanterelles, borscht with ham and porcini mushrooms, roe loin with plum sauce, dumplings with raspberries.
Dom Polski: In this Polish restaurant you can taste a variety of game, poultry, meat and fish dishes. This place is notable for the fact that it has 2 halls and a greenhouse, and on Mondays and Sundays they perform Polish music accompanied by cello and violin..
Podwale Piwna Compania: the restaurant's interior and cuisine are made in the best traditions of the Czech Republic and Bavaria. Here you will be offered to enjoy grilled fish, fried pork ribs, duck and trout, various soups, porcini mushroom dishes.
Polka: this restaurant will appeal to lovers of Polish cuisine - here you can taste blood sausage, dumplings with cottage cheese, pork knuckle, shortbread "Mazurka".

Gastronomic tours in Warsaw
On such an excursion, you will get acquainted with the gastronomic Warsaw, Polish national cuisine, find out in which places in the city you can eat tasty and inexpensively. In addition, you can learn how to cook the delights of local cuisine by attending a culinary workshop.
Finding food outlets in Warsaw is no problem: numerous eateries and restaurants can be found both in the city center and beyond.
Photos