Rivers of Poland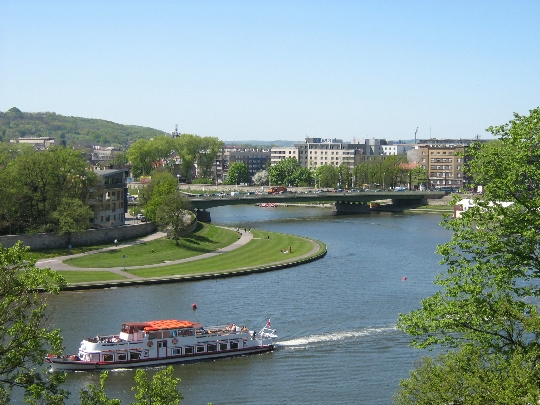 Rivers in Poland form a fairly dense water system in the country. And for the most part they are tributaries of the two largest Polish rivers - the Vistula and the Odra.
Vistula river
The Vistula is the longest river in the country and flows into the Baltic Sea. The total length of the waterway is 1047 kilometers. The source of the river is the western slope of Baranya Gora (Western Carpathians). The Vistula ends its journey in the Gulf of Gdansk (Baltic Sea).
In its upper reaches, the Vistula is a turbulent mountain river, and only after passing Krakow, it becomes calmer and more abundant, receiving several tributaries. The middle and lower reaches of the Vistula are a classic flat river. The largest tributaries: Dunajec; Wislock; Western Bug; Saw; Vepsh.
In summer Warsaw along the Vistula, you can go on an unusual journey on a ship that looks very much like a Viking boat. There are excursions by boat from Krakow and Gdansk. Many ancient cities are located on its shores..
While sailing along the river, you can see a huge number of different species of birds that live along the banks of the river. The waters of the Vistula are extremely interesting in terms of fishing. Here you can have a great time filling the cage with pike, trout, eels, carp and catfish. The banks of the river in many places are protected areas, in particular, there is the Beliansko-Tynetsky park.
Oder river
The river passes through the territory of three countries - the Czech Republic, Poland and Germany. This is the second longest - 903 kilometers - river in the country. The Odra channel serves as a natural border between Poland and Germany. The source of the river is Eastern Sudetenland (Czech Republic). Then the Oder passes to the territory of Poland. The estuary is the Szczecin Bay. The largest tributaries of the river are: Bubr; Nysa-Luzhitska; Warta.
The name of the river has a very simple translation. - «water, flow». It is the Oder, one of the rivers of the famous Amber Route, which connected the countries of Europe and the Balkans with the Baltic coast..
Descending from the mountains, the Oder flows calmly across a wide plain. After the Oder receives the waters of Nysa-Luzhitski, the width of the river increases to two hundred meters. The river bed in many places is limited by ramparts in order to prevent severe flooding in the coastal areas. The river is inhabited by: carp; trout; catfish; Pike; zander; acne.
Western Bug River
The Western Bug is an Eastern European river flowing through the territory of three countries: Ukraine, Belarus and Poland. The total length of the channel is 772 kilometers.
In some places, dams are installed on the river, forming ponds and reservoirs. In the waters of the river you can catch: roach; pike; bream; tench; minnows; chub. Once upon a time, even salmon was found here, but these are already legends.
Photos