Beaches in Porto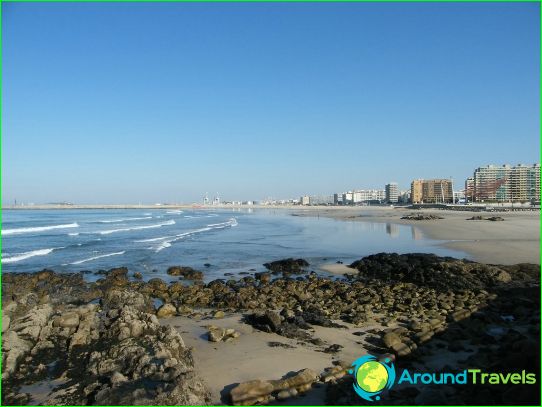 Porto is not one of the world's centers for beach recreation, but you can also have a good rest here. The beaches in Porto are small pebbled and sandy, they are separated by rock and are 70-380 meters long. Fully equipped and affordable recreation areas start from the confluence of the river. Douro to the ocean and extend to the Matosinhos area.
The beaches are equipped with toilets and showers, lifeguards are on duty at them, there are cafes where you can taste dishes of national cuisine. As a rule, there are children's playgrounds on the beaches, sun loungers and umbrellas can be rented, parking for cars and bicycles is equipped, there are fountains with drinking water everywhere, there is infrastructure for the disabled. Information stands are available on every beach.
The most famous and popular beaches:
1. Matosinhos;
2. Espinho.
Matosinhos
The area is the gastronomic capital of the northern region of Portugal. Tourists come here to see the local beaches, which are scattered along the entire coast and surrounded by rocks. Here is one of the most famous and unusual natural sculptures of the local region, it is called «Fisherman», its outline resembles a fishing net. To get to Matosinhos beach from Porto, you need to go from São Bento Central Station by metro to Matosinhos Sul station, just seven minutes walk - and you will find yourself on the beach itself.
Very strong winds often blow here, and if the weather is not conducive to swimming and sunbathing, you can visit seafood restaurants, stroll along the promenade or explore the ancient castle with the name «Cheese». In July, the Matusinos Beach hosts a fish festival. Barbecues are set up near the beach, there is an opportunity to taste fresh fried fish prepared according to local recipes.
Espinho
It is a young resort, formerly there was a small fishing village in its place. On the coast of the town are the best sandy beaches of Porto. The wind is very strong here, so this beach is a favorite spot for surfers. Even in autumn, people in wetsuits are freezing in the water, catching their wave. The coastal landscape is very varied, and in addition to relaxing on the beach, you can enjoy the views of the local forests and hills. The drive to the city will take about 30 minutes and can be reached from the São Bento train station. Arriving in Espinho on a weekday, you will find yourself on an almost deserted huge beach with an incredible view of the ocean. You should definitely come here if you are looking for peace and quiet, here you can also enjoy the beauty of the raging elements. Ocean view will leave no one indifferent.
Photos of the beaches of Porto