Alpine skiing in Romania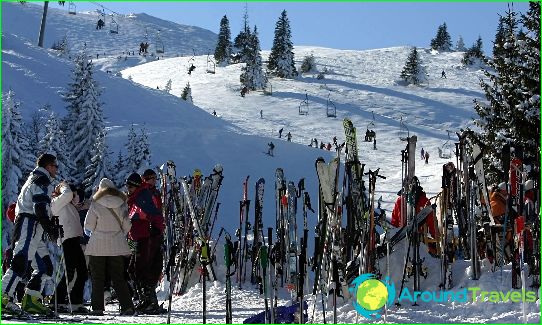 Romania was and remains a kind of provincial outskirts of Europe. There are no trendy shopping malls or world-class attractions. But Romania has very friendly people and excellent ski resorts. At the same time, the prices for skiing, accommodation and other services are quite pleasant and cannot be compared with Austria or Switzerland..
In total, almost two dozen ski resorts are open in Romania, but Sinaia and Poiana Brasov received international recognition, thanks to their technical level and infrastructure..
Equipment and tracks
It is not by chance that the Sinai resort is called the pearl of the Carpathians: such beautiful mountain views cannot be found even in the Alps. Sinaia is located at the foot of the Piatra and Furnika mountains at an altitude of about two thousand meters above sea level. The difference in altitude in the resort is at least a kilometer, and the total length of the tracks reaches 40 kilometers..
The season in Sinai begins in December and comfortable skiing is possible until mid-March. The temperature at this time does not drop below -4 degrees, while there is no strong wind, but the sun is in abundance. In total, 10 ski lifts are equipped in this ski resort in Romania, bringing athletes to the starting points. Their capacity reaches 1,800 people, and therefore there are no queues. The tracks in Sinai are laid in the coniferous forest and on the plain. Their labeling is suitable for a wide variety of categories of athletes: yes «black» slopes for professionals and «green» for newbies.
Poiana Brasov resort is more modern and offers not only skiing, but also horseback riding, sledging, cross-country skiing. For fans of ski slopes from the mountains, 14 kilometers of slopes are equipped here, a third of which are intended for beginners. Snow cannons guarantee a stable snow cover for the entire skiing period, and comfortable hotels offer spa services, excellent cuisine and home cosiness and comfort..
Entertainment and excursions
From Sinaia, guests of the resort go on excursions to the Peles Palace, located nearby. The architectural monument offers its visitors a unique collection of paintings, a collection of antique mirrors and weapons and walks in the park, which is an outstanding example of the art of landscape designers. Sinai Monastery of the 16th century is another local attraction.
Not far from the Poiana Brasov resort in the mountains is the legendary Bran castle, in which, according to legend, Count Dracula appeared. Excursion to the city of Brasov offers organ concerts and acquaintance with medieval architectural sights.
Pictures of Romania ski resorts