Independent travel to Yekaterinburg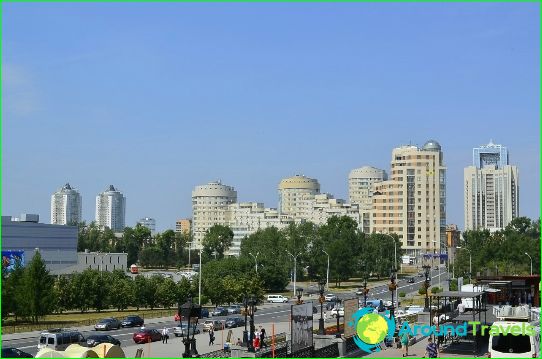 "The third capital of Russia", Yekaterinburg is not only a large industrial center of the country, but also a city where the historical past is carefully preserved. A trip to Yekaterinburg will help you get to know the Urals and answer the question of where is the border between Europe and Asia.
When to go to Yekaterinburg?
The weather in Yekaterinburg entirely depends on the temperate continental climate prevailing here. The best time to visit the capital of the Urals is in the summer months, when the thermometer can rise to +27 degrees, and almost every day is sunny. The winter city greets guests with real frosts and elegant New Year's streets and squares, and therefore an independent tour to Yekaterinburg during the winter holidays is a great way to relax and gain strength.
How to get to Yekaterinburg?
The city airport accepts many flights from Moscow, St. Petersburg and other cities in Russia and abroad. The flight time from the capital is approximately two hours, and the journey from there by rail will take just over a day..
Moving around the city is greatly simplified by the presence of the metro, which is not only convenient, but also beautiful. Ornamental stones mined in the region were used in its decoration..
Housing issue
You can stay in Yekaterinburg in any of the city hotels, the prices of which differ depending on the level of the hotel. The most fashionable have 5 * on the facade and a price tag comparable to the cost of living in the best European hotels. For travelers who prefer not to spend extra money on an overnight stay, there are options to rent apartments or rooms for daily rent, which turns out to be much cheaper and sometimes more convenient..
Argue about tastes
Cafes and restaurants in Yekaterinburg offer guests of the city traditional Russian cuisine and dishes prepared according to recipes from different countries. The cost of lunch can be expressed as a very small figure if you prefer small cafes and restaurants away from the main streets. In Yekaterinburg, as in any city, the rule is unshakable: the simpler the interior and the less advertising, the lower the prices and, oddly enough, the tastier..
Informative and fun
Shartash stone tents are rock formations that are at least 300 million years old and will appeal to fans of natural attractions. Dozens of museum expositions will attract the attention of tourists who are fond of local history and history, and architectural monuments of the 18th - 19th centuries will tell about the past of the wonderful city named after the great Russian empress.
Photos of the trip to Yekaterinburg