Children's camps in Kemerovo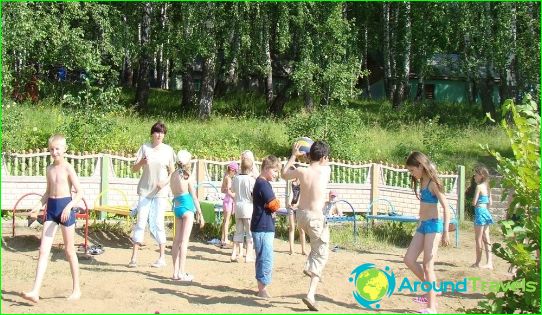 Kemerovo is an old city that appeared in the 18th century and was previously called Shcheglov. It received its current name only at the beginning of the 20th century. There are many original monuments and several museums in Kemerovo. Today this city is a large industrial center in the eastern part of the country. Power engineering, chemical industry and mechanical engineering are developed here. Therefore, the ecological situation in Kemerovo leaves much to be desired. On vacation, you should go out of town, to areas with pure nature..
Where are the best camps
Children's camps are located in ecologically safe areas. In the Kemerovo region there are a lot of health institutions, country camps and sanatoriums for children. It is the leader among other subjects of the Siberian Federal District in terms of the number of working children's camps. During the summer holidays, over 900 camps function in the region. Almost every school in Kemerovo has day camps. Health and professional institutions offer a variety of shifts for children. They organize hiking trips in the Western Sayan Mountains, Kuznetsk Alatau, Gornaya Shoria and other places..
Features of children's recreation in Kemerovo
Wellness summer campaigns are the result of joint activities of cultural institutions, social protection, health care and education. In country camps, the educational process takes place with the participation of experienced teachers and psychologists. The management sets itself the following tasks: strengthening the base of children's camps, developing a network of health institutions for schoolchildren, ensuring the safety of children.
Kemerovo is the administrative center of the Kemerovo region. For recreation, it is better to choose camps and sanatoriums located outside the city limits. The city itself stretches along the banks of the Tom River, in the southeastern part of Western Siberia. There are 3482 km between Kemerovo and Moscow. The climate here is sharply continental. The city has a very long winter with an average temperature of -22 degrees. Frosts here reach -45 degrees and below, and the snow lies in meter-long snowdrifts. But the local population loves the winter season. Summer in Kemerovo is hot and humid. Summer is short, and the temperature sometimes reaches +40 degrees. Swimming in the local river downstream of the city is not recommended even in very hot weather. Its water is saturated with chemical waste. Air pollution within the city is also high.
Children's camps in Kemerovo are concentrated far from industrial enterprises and areas with poor ecology. In this regard, a favorable situation has developed in the Rudnichny district, next to which there is a pine forest. There are many recreation centers, sanatoriums, camps and ski resorts..
Photos of children's camps in Kemerovo