Children's camps in Podolsk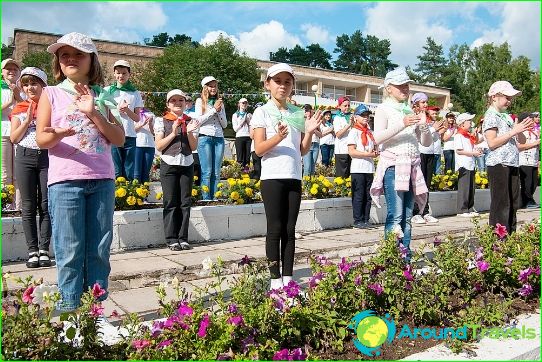 There are children's camps, boarding houses, recreation centers and sanatoriums in Podolsk. Vouchers to such institutions become especially relevant with the arrival of summer..
Children's camps in Podolsk are a great opportunity to spend your holidays with benefit. The child will be in the fresh air most of the time, under the supervision of counselors. The wonderful natural conditions of Podolsk are a great advantage of the camps. Children learn the rules of collective living, adapt to social life. In this regard, the benefits of the children's camp can hardly be overestimated. Rest in the company of peers has a positive effect on the general development of schoolchildren. The children's camp promotes health improvement, which is one of its main goals..
Podolsk camps can be divided into groups:
Institutions of a sanatorium type, the programs of which are aimed at improving the health of children. They include activities such as hardening, bathing, sports, exercise, etc. Sanatorium camps are ideal for schoolchildren with any health problems.
Specialized institutions that are focused on conducting entertainment events. All kinds of circles, studios and sections function in such camps. They are aimed at developing creativity, expanding horizons.
Out-of-town institutions for children with psychological problems. They create a safe and calm environment. Psychologists analyze children's fears, talk with children and help solve problems.
School camps. They are designed for the daytime stay of children. Schoolchildren spend their leisure time interesting and fun, participating in recreational activities and visiting excursions.
If the child comes to the camp for the first time, he may experience some difficulties in adapting. But all this is temporary. Under the careful guidance of experienced instructors and teachers, children quickly get used to new conditions. Children's camps in Podolsk often introduce new programs in the field of schoolchildren's recreation. These include preventive, family and floating camps..
Educational activities in the camps are interesting and varied. The city has attractions that attract the attention of children of all ages. In the center there is the Church of the Resurrection of Christ, the Cathedral of the Life-Giving Trinity and other objects. Schoolchildren make educational excursions to the Historical and Memorial Museum-Reserve «Podillia». There you can see how the buildings and streets in the city used to look. Old manors are a kind of pride of local residents. Many of them are located outside Podolsk.
Photos of children's camps in Podolsk