Where to eat in Moscow?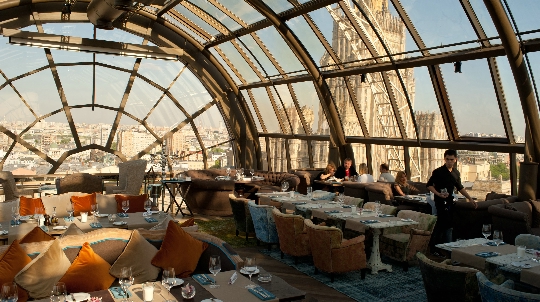 Arriving on vacation in the capital of our Motherland, you will probably be interested in where to eat in Moscow. At your service - restaurants, cafes, snack bars, canteens ...
Where to eat in Moscow inexpensively?
You can eat inexpensively in Canteen No. 57, located on Red Square. Here you can taste the salad "Mimosa" or "Olivier salad", herring under a fur coat, borscht, cutlets with mashed potatoes, sausages with peas ...
Vegetarians may be advised to visit a cafe "Jagannath" - here, in addition to the usual vegetarian dishes, you can try authentic Indian dishes (any hot dish in this cafe costs no more than 200 rubles).
You can visit a cafe in the city center "People as people": here you can enjoy delicious and inexpensive pies, pilaf, lasagna, stew. A business lunch here costs no more than 300 rubles (3 courses).
You can have a hearty lunch at an affordable price in Moscow self-service cafes ("Mu Mu", "Fork spoon", "Rake"): the average cost of an account is 300-450 rubles. In addition, you should take a closer look at such establishments as McDonalds, Burger King, Subway (here you will find low prices and decent quality food).
Where to eat deliciously in Moscow?
Il Patio: in a network of Italian cuisine restaurants you can taste delicious pizza, meat, seafood, desserts.
DJ cafe "Bali": here you can have a delicious meal on the veranda (negotiations, afternoon lunch, business meetings), on the balcony (romantic meetings) or in the loudge zone. Guests here can order dishes of Mexican, European, Japanese and Italian cuisines (average bill - 1500 rubles).
Black Thai: This restaurant serves Thai cuisine, original desserts and cocktails.
A restaurant "Well fed duck": Here you can taste European cuisine (grilled, grilled). Young visitors will not be bored in this restaurant: a special children's menu has been developed for them, children's tables and chairs have been installed, there is a children's room where you can watch cartoons, play and draw.
Gastronomic excursions in Moscow
If you wish, you can visit the Museum of Chocolate and Cocoa, as well as visit the places of the first chocolate industries. The tour guide will offer you a ride through the picturesque central streets of Moscow, and during the excursion he will tell you about the traditions of food and drink in Russia from the 10th century to the present.
Or you can go on a tour of Moscow bars, during which you and your guide will move from one bar to another (you can visit 4-5 bars in the evening), participate in fun contests, taste various cocktails and light snacks (such tours as as a rule, they are compiled in such a way that participants can get to interesting events - parties, concerts).
While vacationing in Moscow, you do not have to frantically search for food establishments - they are here literally at every step.
Photos