Where to relax with a tent in Russia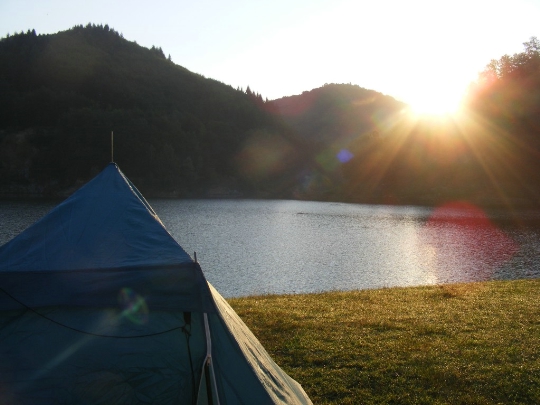 When planning to go on vacation with a tent, the first and most important thing to consider is to really assess your strength and not «overdo» with the duration of this rest. The vast majority of girls and women, even if they were determined to spend almost the entire vacation in a tent, and their eyes burned with sincere enthusiasm, already on the third or even on the second day of living in nature in a tent will begin to feel an irresistible desire to return to the benefits civilization. Men can feel comfortable in hiking conditions much longer, however, they, especially residents of large cities, will get tired of camping in a tent quickly enough..
Therefore, the following option is optimal. Going, say, on a trip to the sea, the first three days of vacation to live in a tent (best of all - in a picturesque place away from the hustle and bustle of resort towns), but then still move to a hotel or rented accommodation. Then the impressions of the vacation will be as saturated as possible with pleasant emotions. And communication with nature will be harmonious, without unnecessary irritation and fatigue. And the benefits of civilization, which we are used to taking for granted, will bring a great mood and give a new impetus to the next part of the vacation..
Rest with a tent on the Black Sea. Big Utrish is a great place
One of the best places on the sea coast of the Krasnodar Territory is considered to be the nature reserve Bolshoy Utrish, not far from Anapa, on the Abrau Peninsula. Here, right on the shore of one of the coves and lagoons, you can find a truly secluded picturesque place for a tent camp. It doesn't matter if you have to walk a few kilometers from the bus stop for this (if you arrived here by bus from Anapa). It's worth it.
The places are really great. The mountain ranges, overgrown with relict pines, oaks, hornbeams, junipers and pistachios, descend almost to the water itself. In summer you can see many amazing colorful butterflies of different colors, most of which you have never met before. In the morning it is nice to wake up to the singing of birds, of which there are also many here. You can find turtles. And after washing dishes in sea water, you can see funny nimble shrimps that swim up and eat microscopic food particles washed off the plates..
The sea water is crystal clear, the shores are comfortable for swimming. It is good to combine a beach vacation with a mountain one, devoting half a day to hiking in the mountains in order to climb one of the peaks and enjoy the breathtaking view from there. The ascent, of course, will be difficult in places, but the descent is much easier. You can spend one of the nights not on the coast, but right in the mountains. There are no predators capable of attacking humans in these places.
River rest with a tent. Dipper is an ideal river for kayakers
Many people rightly believe «major league» camping trips kayaking on small rivers. Precisely for small ones, because on such rivers as the Volga, there is nothing to do on a kayak - this is not the element of this vessel, and it is not interesting either. Consider yourself lucky if a friend or acquaintance has a kayak and is ready to take you as the second or third rower on the hike. If not, then it makes sense to fork out for the purchase of not only tents, but also kayaks. For on this «vehicle» you can visit places where a person has never really set foot and where it is impossible to reach even in the best jeep.
Perhaps the best small river for camping and kayaking in the European part of Russia is the Medveditsa River, a tributary of the Don. It is good because, thanks to the constant and intense current, it always has clean and transparent water, without foreign odors of mud, as is the case in other rivers, and sandy shores that are convenient for swimming..
The she-bear is not only a strong, full-flowing, but also a very diverse river. Starting, for example, in the village of Krasny Yar and sailing on a kayak to the town of Mikhailovka (or even along a shorter route to Danilovka), you can see lush steppe, dense forest, and majestic mountain landscapes along the way. This does not mean real mountains, of course, but the powerful hills of the Medveditskaya ridge, famous among ufologists and mystics. In the same place, on a kayak, you will have to overcome a number of terrifying river rapids with a frantic current and whirlpools, which are even strange to see on a steppe, not a mountain river..
The tent is placed in any place you like, on the shore or on a river island. And there is no shortage of scenic spots here. It makes sense to take fishing tackle with you. Anyone who loves fishing will be generously endowed with the river. We must not forget sleeping bags - it is very cool to sleep in a tent by the river at night, even if it was July heat during the day..
Lake Baikal. Relax in body and soul
The only obstacle that keeps many from vacationing on Lake Baikal is the high cost of a flight from the European part of Russia to Irkutsk. But sooner or later, instead of another trip to Turkey for a passive vacation, it is worth spending money in order to get into a real fairy tale of pristine nature - to the Baikal island of Olkhon.
Rest in a tent will allow you to feel all the charm of these heavenly places. Your best bet is to make it mobile. That is, spend the night in different places, moving along the coast. Because here are not only incredibly beautiful, but also diverse places - on one island there are seven changing climatic zones. Sacred places that really fill the body and soul with new vitality. It's hard to explain in words, it's best to go there.
When traveling with a tent to Lake Baikal, one should not be afraid to play it safe with warm and rain-proof clothes. The weather here is changeable, and after the heat it can get quite windy, cold and wet.
For any of the described places, the method of combining a tent, «wild» relaxation with the civilized. Having fully enjoyed the power of nature and having been in harmony with it, be happy to move to a camp site, hotel or rented apartment to take a full warm shower and stretch out on clean ironed bed linen. So only bright, rich, positive impressions will remain from the vacation..
Photos