Where to eat in Belgrade?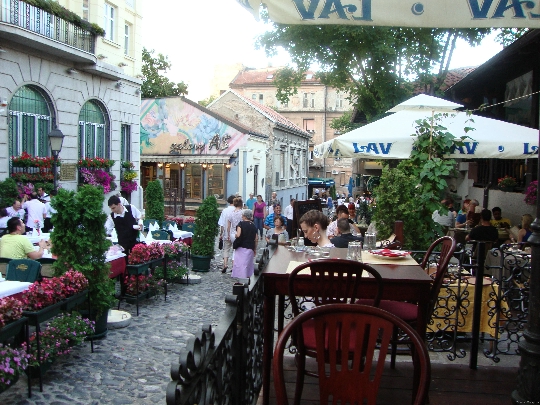 "Where to eat in Belgrade?" - a topical issue for travelers coming to rest in the capital of Serbia. There are many food outlets, including eateries, Turkish lokants (where you can enjoy kebabs) and a bakery (where you can buy sandwiches and buns). In local establishments, you will be able to taste lamb cooked on a spit, "hanger" (juicy chops with vegetable filling), "juvech" (a dish of rice, stews and vegetables), stuffed cabbage "sarma", wild herb soups, tomatoes stuffed with smoked fish.
Where to eat in Belgrade inexpensively?
Typical Serbian taverns - kafans - serve simple, homemade food at reasonable prices. So, you can go to "Znak Pitanja", where hangers and cevapchichi are popular dishes. There are numerous eateries and fast food restaurants such as McDonalds for a budget snack. For example, you can look into a fast food establishment "Bicko" - here you can order pizza and sandwiches at reasonable prices.
Where to eat in Belgrade delicious?

Kalemegdanska terasa: This restaurant, located on the territory of the Belgrade Fortress, delights its guests with an organic menu and panoramic views of the city and the Danube. Here you should try cream soup made from vegetables and porcini mushrooms, salmon fillet in teriyaki marinade, beef and foie gras rolls in truffle sauce. In addition, the establishment has a terrace, smoking and non-smoking areas..
Konoba Kod Goce i Renata: This fish restaurant on the banks of the Danube offers a variety of fish-based dishes. In addition, there is a playground here..
Ruski car: This restaurant specializes in European and Serbian cuisine. Pizza lovers will love this place - they can enjoy pizza here. "The KGB" with three types of cheese, "Russian Tsar" with mushrooms and ham, a-la rus "Ivan groznyj" with mozzarella, pesto sauce and olives.
Lorenzo & Kakalamba: This restaurant specializes in international, Serbian and Italian cuisine. It is worth noting that the products in this establishment come from Serbian pastures (cheese, lamb, pepper) and Tuscany (olive oil, sausage and ham, mascarpone and burato cheeses, flour). Here you can enjoy handmade ravioli with spinach, Parmesan cheese and ricotta, Tuscan steak with arugula and cheese, beef soup with dumplings, grilled salmon.
Tribeca: on the menu of this restaurant you will find delicious dishes such as pancakes with pine nuts and apple, beef steak with truffle oil and fried vegetables, turkey with gorgonzola cheese and mlinzas, baked octopus with tomatoes and potatoes.

Gastronomic excursions in Belgrade
In addition to visiting authentic establishments with national cuisine, as part of a gastronomic tour of Belgrade, you will be offered to visit the Vukoje wine cellars, where you will taste various types of wines.
Belgrade will amaze you with its architecture, sights, atmosphere, delicious Serbian cuisine.
Photos