Singapore - the capital of Singapore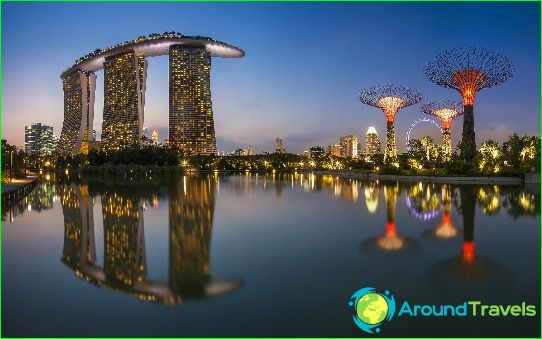 As soon as this city-state is not called by its inhabitants and visiting tourists: Europe at the equator, Lion City and other exotic names. Yes, no one even has enough fingers to list all the pseudonyms of Singapore. It should be noted that the capital of Singapore is characterized not only by a huge variety of tourist names, but also by the same number of interesting places to visit..
Botanical Garden
For a morning walk, visit the Singapore Botanic Gardens. The entrance is free. The garden is open from five in the morning to twelve in the evening. Here you can appreciate the beauty of more than 60 thousand species of orchids, as well as visit the fantastic Ginger Garden.
If you are puzzling about what souvenir to bring home and want to buy something original, then in the Botanical Garden you can buy a live orchid sprout. The flowers will survive the trip well, as they are sold sealed in test tubes with transport gel. Thanks to this, you can safely transport the sprout, and grow a full-fledged flower at home..
Fountain of wealth
There is a legend that if you go around the fountain three times clockwise, while constantly touching the water with your hand, your wish can come true. In the evenings, a laser show is held here for visitors. But, judging by the reviews of eyewitnesses, they are not very impressive, so you should not come here for this reason alone..
Amphibious bus
Be sure to plan your excursion to Suntec City. The impressions of the trip are amazing! You get on the bus and go on a trip without expecting anything out of the ordinary. But the bus turns off the road and enters the water and the journey continues! The Ducktours company conducts such walks every half hour. Tickets for the excursion can be bought on the company's website in advance.
Marina Bay promenade
A walk along the embankment will be interesting both day and night. In daylight, it is worth appreciating the unusual architectural design of the famous Marina Bay Sands hotel. It consists of three columns that serve as the basis for a huge ship..
It is this embankment highway that Singaporeans call the heart of the city. Be sure to come back here in the evening when the incredibly exciting fountain show kicks off.
Dinner on the Royal Ship
Another exotic entertainment. After «heavy» of the day, be sure to go to Marina South Pierko. Here ships depart from the pier, which exactly reproduce the ships that belonged to the royal squadron. At one of them you can have a delicious dinner. The dinner itself lasts 2 hours, and tickets must be booked in advance.
Photos