Things to do in Singapore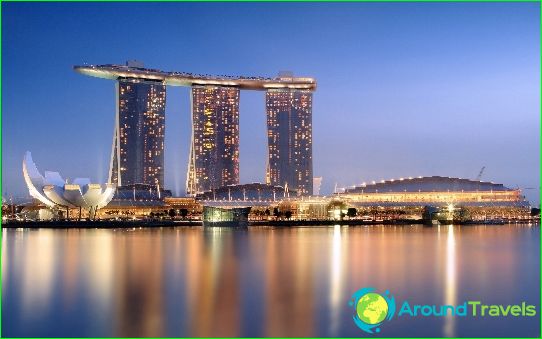 Entertainment in Singapore is aimed at travelers who want to spend time in nightclubs, tennis courts, golf courses, eco-farm.
Amusement parks in Singapore

"Universal studios": here you can visit any of the seven thematic zones. For example, in the zone "Hollywood" you will have the opportunity to capture yourself in a photo together in Charlie Chaplin or Marilyn Monroe and walk along the Walk of Fame, in the zone "Ancient Egypt" - explore the labyrinths of the underworld of the attraction "Revenge of the Mummy" (you will be put in a trailer, which in complete darkness will rush forward at high speed), and in the zone "lost World" - meet dinosaurs and admire the WaterWord show (special effects and dangerous stunts will amaze you).
The amusement park on the Marina Barrage dam: here you can play outdoor games, sit on the lawns, have a picnic, ride in rented boats or kayaks, get acquainted with the interactive exhibition at the local museum (you will learn how the dam works), and in the evening admire the colorful fountains.
What entertainment in Singapore?
An unusual entertainment on vacation in Singapore can be a visit to the Singapore Gems Building jewelry factory: the exhibition hall displays original jewelry masterpieces in the form of unique jewelry, paintings with semi-precious stones, jade figurines..
If you are bored with ordinary dinners in restaurants for a long time, then you should definitely visit the restaurant. "The clinic", where wheelchairs play the role of chairs, wine is served in droppers, spirits are in syringes, and the invoice resembles a doctor's prescription.
If you are interested in a virtual golf club, visit the unusual golf center in the Capital Tower building: at your service - simulators that simulate the conditions necessary for playing golf.
Fun for kids in Singapore

"Singapore Zoo": please your child with a visit to this zoo - here he can get acquainted with pygmy hippos, orangutans, Sumatran tigers, golden monkeys, as well as watch performances with the participation of animals.
Aquapark "Wild wild wet": at the disposal of children and their parents, the water park provides "lazy river", wave pool, various slides, pool with hydromassage.
Amusement park "Escape": your child here will be happy to ride airplanes and trains, jump on trampolines, spend time on water attractions.
While on vacation in Singapore, do not forget to ride the Singapore Flyer, go up to the Sky Park observation deck (located in the hotel "Marina Bay Sands"), go for a river walk, plunge into the world of shopping on Orchard Road.
Photos