Islands of Sweden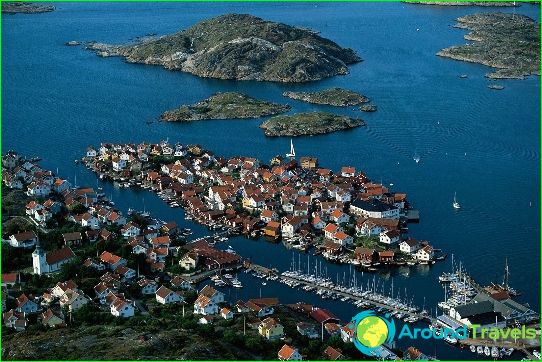 The Kingdom of Sweden is located in Northern Europe, which includes many islands. The most significant in terms of size are the following land areas: Ven, Bjorke, Adelsjo, Visingsjo, Gotska-Sandyon and others. Sweden's islands are located in the Baltic Sea and the Gulf of Bothnia. The largest islands in the Baltic are Öland and Gotland. The borders of the state stretch for 2233 km. Sweden is separated from Denmark by the Skagerrak, Kattegat and Øresund straits.
Archipelagos of Sweden
Near the towns of Piteå and Luleå, in the Gulf of Bothnia, there are island groups famous for their beautiful nature and cultural attractions. This is the Stockholm archipelago, which includes about 24 thousand islands. It is 80 km away from the city.
The Estgiote archipelago is located near the eastern coast of the country. In fact, it is formed by three archipelagos: Tust, Gryut, St. Anne's archipelago and Arksund. All Swedish islands in this area are covered with vegetation. Barren rocks are very far from the sea.
An archipelago of 10,000 islands is located on the southeast coast. It stretches along the cities of Mönsteros, Vestervik, Kalmar and Oskarshamn. The most significant island in this group is Öland. It is a popular Swedish resort with shallow waters and sandy beaches..
Climatic conditions
Sweden is located in northern latitudes, but the climate is temperate. Relatively warm weather conditions are provided by the Gulf Stream. The country is protected from the winds of the Atlantic by the Scandinavian mountains. Winters in Sweden are cold and summers are short. In many of the Baltic islands, the climate is mitigated by warm Atlantic winds. The average summer temperature in the country is +17 degrees. In January, the temperature is -14 degrees. The Swedish islands located in the Baltic Sea have warmer winters. It is rainy in the area in summer. The northern territories are covered with taiga trees, while the southern lands have mixed forests. Subarctic climate prevails in the north.
Natural features
The islands of Sweden are characterized by hilly landscapes, rocky soils and coniferous forests. Most of the territory of the state is occupied by forests. The islands with abundant vegetation are interspersed with barren and rocky areas. The capital of the country - Stockholm, occupies 14 islands. The fauna world in Sweden is not very diverse. No more than 70 species of mammals live here. Reindeer live in Lapland, while brown bears and lynxes live in the taiga.
Photos