Prices in Stockholm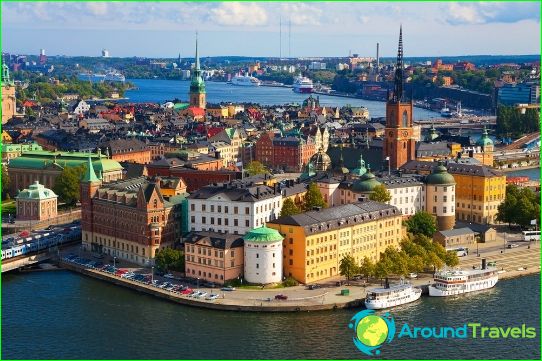 Stockholm has always been considered an expensive city for tourists. Holidays there can easily undermine a traveler's budget. Prices in Stockholm are very high. The living wage for 1 tourist is 100 euros per day.
Tours to Stockholm
Holidays in the capital of Sweden are often included in sightseeing tours in the Baltic and Scandinavia. Tours to this country are made by bus, ferry, train and plane. The average cost of an excursion tour for 5 days in Stockholm is 400 euros per person. About 1400 euros must be paid for a panoramic tour on the route Stockholm - Gothenburg - Malmö. The most popular is the combined tour of the Scandinavian countries, which includes visits to Oslo, Tallinn, Riga and Stockholm. To spend 10 days on such a trip, you need to spend 700 euros. The tour takes place by bus, the indicated amount includes accommodation, meals and several sightseeing tours.
Residence
There are good hotels in Stockholm, but almost all of them are very expensive. Luxury is guaranteed to visitors, but it costs a lot of money. Accommodation in a cheap and simple room is not possible here. A place in the cheapest hostel costs 700-1300 rubles per day. You can spend the night in a 5 * hostel for 8500-23500 rubles. The most budgetary option is a hostel. For those who want to save money, a dorm room is the best solution..
If a tourist has the opportunity, he can stay in a prestigious hotel in Stockholm. There are such establishments in the Old Town, Östermalm, Södermalm or in the center..
Transport and excursions in Stockholm
Travel by public transport is more expensive than in other European countries. Sightseeing is also expensive. In Stockholm, all interesting objects are located in one place, so you can see them while walking around the city. An excursion to the ABBA Museum costs 50 euros. A visit to Hallvili Palace for 2 hours will cost 100 euros. For a group photo tour around the city, you have to pay from 20 euros per person.
Food
Food in Stockholm is expensive. Even fast food is paid more here than in other European cities. In the capital of Sweden, you can taste excellent seafood and freshwater delicacies. Restaurants offer Italian, Indian, Turkish, Thai and other cuisines. If you are looking for a good restaurant, get ready to splurge. Buffet is popular in Stockholm restaurants. The average bill will be 500 rubles per person. Restaurants and cafes have daily low-cost lunches that include a main course, bread, salad and a cup of coffee. You can dine in a budget restaurant for 80 CZK. Dinner costs 3 times more. An economical option is to buy food at the supermarket. Alcoholic drinks are sold at high prices in Sweden. For example, a mug of beer costs 150-300 rubles..
Stockholm, Sweden)

Photos