Stockholm in 3 days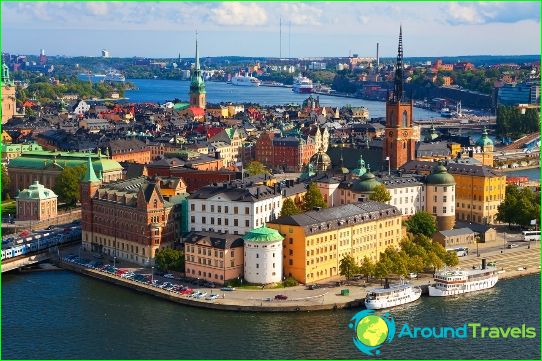 Stockholm began to be built in the XII century at the place where Lake Mälaren is connected by channels with the Baltic. The proximity of the sea largely determined the features of the planning of the Swedish capital, and the advantageous geographical position of the city allowed it to quickly develop and gain influence. Going to Stockholm for 3 days, the traveler has a chance to get to know the largest Scandinavian city and its most famous sights.
Museum record holder
The capital of Sweden has been awarded the honorary title of the European Capital of Culture many times. An important role in this is played by the museums of Stockholm, in 3 days it is quite possible to see the most important ones. Expositions are especially popular:
National Museum, which houses about sixteen thousand paintings. Among the masterpieces are paintings by Watteau and Rembrandt, and complement the collection of more than 30 thousand items and handicrafts made at different times in Scandinavia.
Museum of Modern Art, whose halls boast masterpieces by Dali and Picasso.
Museum of National Antiquities, the lion's share of exhibits found by archaeologists during expeditions to Sweden. The museum answers many questions regarding the history of the country.
The Nobel Museum, where you can learn interesting details from the life of the founder of the famous foundation and laureates who were awarded the prize in his name.
Museum ABBA, which stores many rarities dedicated to the most popular group in the history of modern stage.
Where did it all begin...
It is the Gamlastan area that is the place from where it is worth starting the excursion "Stockholm in 3 days". The city was born on its ancient streets, and the local sights can tell a lot to the curious traveler..
The Church of St. Clara rises above all to heaven in the capital of Sweden. Its tower is visible from different parts of the city, as is the bell tower of the Riddarholm Church, which is considered the oldest building in the city. Its construction began in the 13th century, and the building served for many centuries as the tomb of Swedish kings.
Visiting a fairy tale
Once in Stockholm for 3 days with children, tourists rush to visit Junibakken - a children's center, which successfully combines a museum exposition and entertainment areas. Junibakken is dedicated to the works of Astrid Lindgren and Tove Jansson, and plays based on their works are staged on its stage every day. The shops of the center sell fabulous souvenirs, and in the restaurant you can taste the best Swedish cuisine, especially once loved by Karlson and Moomin Troll..
Stockholm, Sweden)

Photos