Zurich in 1 day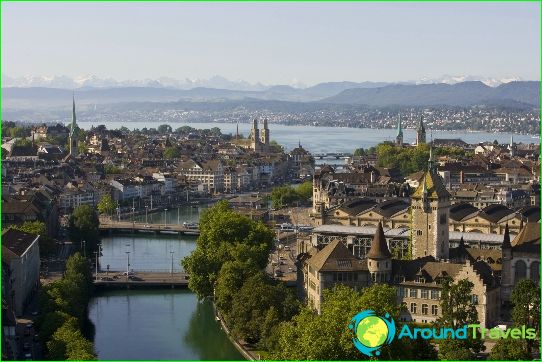 Located in the northeast of the country, Zurich is the largest city in Switzerland. It is considered their home by about four hundred thousand people, and whole armies of tourists visit the shores of the lake of the same name every year, where the Swiss symbol of stability and inviolability of traditions is spread out. If circumstances do not allow you to stay in the city for a long time, do not despair. Visiting the most important sights that Zurich is famous for in 1 day is a very real task.
Safe as a Swiss bank
A walk around the city should be started from Paradenplatz. Once this place became an arena for holding agricultural fairs, and today it houses the offices of the most reputable Swiss banks. The facades of the ancient buildings are awe inspiring, and the sturdy walls inspire confidence even among those who have never dealt with the local banking system..
You can continue your journey and consolidate the opinion of Zurich as a stronghold of stability on Bahnhofstrasse. This street is familiar to fans of luxury shopping for its boutiques and jewelry stores. Here you can buy genuine Swiss watches and branded jewelry. For those who do not have extra funds on this very day in Zurich, the magnificent architecture of medieval buildings will be a consolation..
Stained glass windows and towers
Admirers of enduring values ​​of Zurich are not easy to get around in 1 day, but they are quite capable of seeing the most masterpieces of architecture and painting. The Grossmünster Cathedral with its two Romanesque towers was erected in the 12th century and still serves as the city's hallmark. Its graceful outline adorns the city's panorama and the view of Lake Zurich, while the observation deck offers a magnificent view of other famous sights of the banking capital of Switzerland..
The Fraumünster Abbey for Women is famous not only for its long history and graceful clock tower. Founded in the middle of the 9th century, it is famous today for the stained glass windows of the painter Marc Chagall. The history of Christianity, divinely embodied in five huge multi-colored windows, is already a worthy reason to visit Zurich.
Gourmets and theatergoers
It is worthy to complete a one-day excursion to Zurich with a visit to the city's opera house. He is considered one of the best in the Old World, and performances on the Zurich stage arouse genuine interest even among the regulars of La Scala in Milan. According to the established tradition, after the end of the performance, it is customary to dine in one of the city's restaurants. A late meal will be a worthy end to a busy day and a great opportunity to taste the best local cuisine..
Photos