Airports in Thailand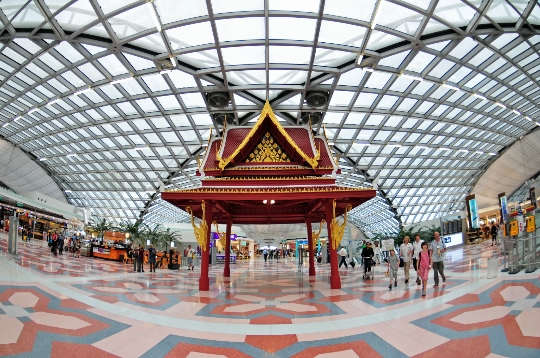 Long ago become a favorite vacation spot for Russian tourists, exhausted by the gray slush of everyday life, the country of eternal summer hospitably opens the doors of its air gates at any time of the year. Thailand's airports annually receive millions of people who want to forget the sorrows and hardships on the shore of the warm sea, offering a high level of service and excellent infrastructure to their passengers..
Direct flights to the capital of Bangkok from Moscow are operated by Aeroflot and Thai Airways. The journey will take 9.5 hours. With transfers, you can get there on the wings of Etihad Airways, Emirates and Qatar Airways with connections in Abu Dhabi, Dubai and Doha, respectively. During the season, charters fly from Russian airports in Novosibirsk, Omsk and other cities to Pattaya and the island of Phuket.
Thailand International Airports
Russian tourists can get to the country of eternal summer both by direct flights and with connections, but, in any case, they will need to have an idea of ​​the location of the international air gates:
Thailand Utapao Airport in Pattaya is located 45 minutes from the main resort capital of the country.
Terminal 1 of the Phuket Island airport serves international flights and receives seasonal Aeroflot flights from Sheremetyevo and S7 from Irkutsk, Khabarovsk, Novosibirsk and Vladivostok. With connections it is easy to get here via Doha, Dubai and Abu Dhabi.
Samui Air Gate opened in 1989. The city where the airport is located is the largest resort on the island, and 6 km from the terminal is the high-speed ferry pier to Koh Tao.
In the province of Krabi, the airport is located 7 km from the city center. The transfer is available by taxi or rented cars.
Metropolitan direction
Suvarnabhumi Airport in the capital of Thailand was built 25 km from the city center. Local carriers Thai Airways and Bangkok Airways are based here, and its terminals serve more than 50 million passengers annually. 95 airlines cooperate with the Bangkok air harbor, including Aeroflot, Air France, KLM, British Airways, the main Middle East, Indian, Japanese and Turkish airlines..
From Bangkok, most often fly to Hong Kong, Seoul and Singapore, and domestic flights are presented in the schedule with flights to Phuket, Koh Samui, Krabi and Pattaya.
The easiest way to transfer to the city is by taxi - it is inexpensive and very convenient in Thailand. The railway station is located right in the main terminal building on the lower level.
The capital's airport provides all the services necessary for its status for passengers - from currency exchange offices to duty-free shops.
Details on the website - www.suvarnabhumiairport.com.
Photos