Attractions in Bangkok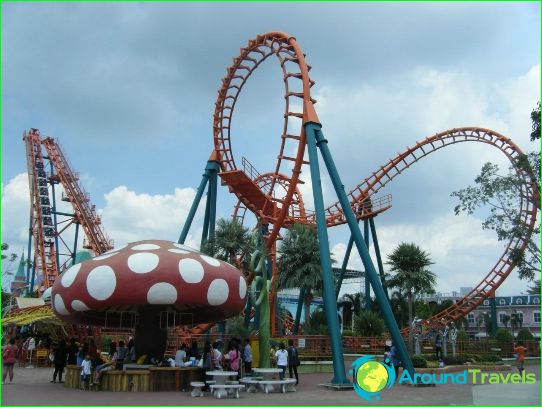 Bangkok is the capital of Thailand and at the same time the largest city in the country. Despite the fact that life here literally rages, and night activity is much higher than daytime, tourists from Europe and America often do not like this city too much. The terrible transportation system and countless hordes of immigrants from all over Asia scare away travelers, so they hastily move to other resorts in Thailand without stopping in the capital. And completely in vain, because the attractions in Bangkok very much deserve to pay close attention to them..
Dream World Park
Number one on the list. This park covers an area of ​​28 hectares, and on its territory are located: ornamental gardens; karting grounds; attractions for children and adults; fabulous mini-towns; numerous cafes with food familiar to foreigners; souvenir shops. An important advantage is that the amusement park is not located in the city itself, but a couple of kilometers from it. Therefore, the noise of the metropolis is not heard here, the air is much cleaner here, and the road takes only a few minutes and is quite cheap..
On weekdays, the park is open from 10.00 to 17.00, and on weekends until 19.00. The ticket price is 450 baht, and admission is generally free for children under 90 cm tall. He also has his own Internet resource, which at the moment, unfortunately, is not available due to the protracted move to another domain..
Ice Park Harbin Ice Wonderland
One of the most famous landmarks in Bangkok. The air temperature inside the park is maintained at -15 degrees, so you can't do without renting gloves, a down jacket and winter shoes.
Harbin Ice Wonderland is divided into two zones. The first one contains all the most interesting, such as halls with ice sculptures, sledding slides, rafting grounds and other attractions. The second is made exclusively for relaxation. There you can have a snack or a drink. It works according to the schedule 10.30-21.30, the ticket price is $ 17, there is a website http://harbin-icewonderland.com/.
Canal walk
Bangkok's signature entertainment. Experienced guides arrange exciting excursions for tourists through the intricacies of city canals. The strength of canal walks is the opportunity to see how the poor class, which forms the basis of the country's population, lives. This picture is significantly different from the superficial gloss and gives an idea of ​​how the country really lives..
Pictures of attractions in Bangkok