Bangkok observation decks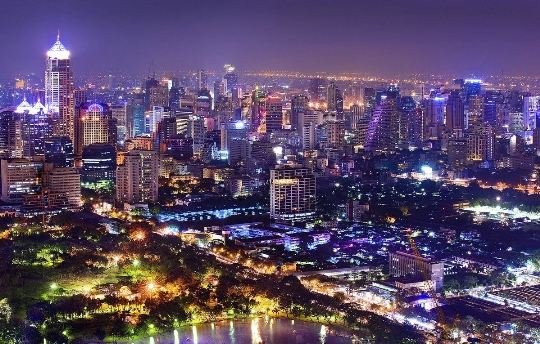 Climbing the observation decks of Bangkok is an excellent chance for tourists to admire man-made canals, lively markets, amazing temples (there are about 400 of them in the city) and palaces from a height..
"Baiyoke sky"
In this building, more than 300 m high, it will be interesting for guests to visit several viewing platforms:
on the 77th floor, you can find an observatory platform - from here guests can admire Bangkok and its environs, in particular the Gulf of Thailand. It is worth noting that the site is equipped with telescopes (powered by coins) and interactive maps.
on the 84th floor, it is worth visiting the revolving observation deck (360˚ view; opening hours - 10: 30-22: 00), the ascent to which will be offered to take a regular or high-speed elevator equipped with glass walls. You can visit this site by paying an entrance ticket, which costs 400 baht (the price also includes the cost of 1 cocktail at the bar). As for the hotel guests, they will be able to come here completely free of charge (the best views from here appear at sunset).
It is worth noting that the windows of the large panoramic windows of the hotel rooms in the space zone (64-74 floors) offer no less delightful views..
How to get there? Buses 54, 72, 38, 504, 74 514 will take you here (address: 222 Rajprarop Road, Pratunam District; website: www.baiyokehotel.com).
Hotel "Banyan tree"
Here vacationers will find an observation deck on the 61st floor in the Vertigo Grill & Moon Bar (open until 01:00) - the institution is famous for excellent cuisine and incomparable panoramas (its visitors will feel like passengers of a spaceship). To watch the sunset (starts at approximately 6:30 pm) and Bangkok at night (the lights turn on at this time of the day, as a result of which you can see the Wat Pho Temple, the National Museum and other buildings), it is recommended to arrive early due to the limited number of best places.
Important: when planning a visit to this institution, you should take into account the strict dress code that is in force there (shorts and other beach and sportswear are not allowed here).
How to get there? Take bus # 62, 116, 17, 89 or 149 (address: 21/100 South Sathon Road).
Wat Saket
From the top of the hill where the Temple of the Golden Mountain is located, guests will be able to admire the historical center of Bangkok and neighboring temples (you can visit from 07:30 to 17:30). It is worth noting that the ascent to the temple and the observation deck is carried out along a spiral staircase (you have to overcome more than 300 steps), and in the middle of the ascent it is recommended to look into a cafe. Important: admission is free, but small donations of 20 baht are welcome (for this purpose, there are boxes placed everywhere).
Address: 1344 Ban Bat, Pom Prap Sattru Phai
Photos