Airport in Hammamet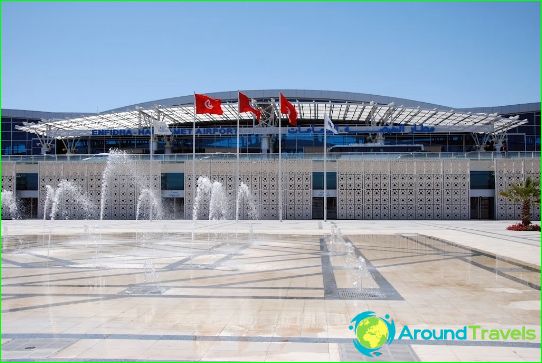 One of the largest airports in Africa serves the Tunisian city of Hammamet. The airport is located in the village of Enfida and is called Enfida-Hammamet airport. The airport is the second most important in Africa, second only to the airport in Johannesburg.
The airport in Hammamet is very young, it was commissioned in 2009. Thanks to him, tourists can rest in the main tourist places of Tunisia - Sousse, Cape Bon and the city of Hammamet. During its short history, the airport was able to achieve impressive indicators, annually more than 2 million passengers are served here, with a capacity of 7 million. At the same time, the airport does not stand still, according to development plans by 2020, the maximum capacity should be 22 million people per year..
It is worth noting the airport control tower - it is one of the highest in the world, second only to the towers of Bangkok and Rome airports..
An image of the airport can be seen on the 50 Tunisian dinar banknote.
Services
The airport in Hammamet offers its passengers all the services they need on the road. For hungry passengers, there are cafes and restaurants on the territory of the terminal..
It is also worth visiting the shops where you can buy various handmade souvenirs, and, of course, food, drinks and other goods..
If necessary, passengers can seek first aid at the infirmary.
In addition, ATMs, bank branches, a currency exchange office, etc. work for passengers..
Recently, a new service has appeared that allows you to spend time waiting for a flight with special comfort for $ 70. At the same time, while waiting, the staff will take care of the registration for the flight.
How to get there
There are several ways to get from the airport in Hammamet to the nearest tourist areas of Tunisia. The most popular is the bus. Buses depart regularly from the terminal building in different directions - Sousse, Hammamet, etc. The bus fare is between $ 2 and $ 4.
As an alternative, you can offer a taxi, but there are only cars with an increased level of comfort, which means that the trip will cost much more.. 
Photos of Hammamet airport