Shopping in Tunisia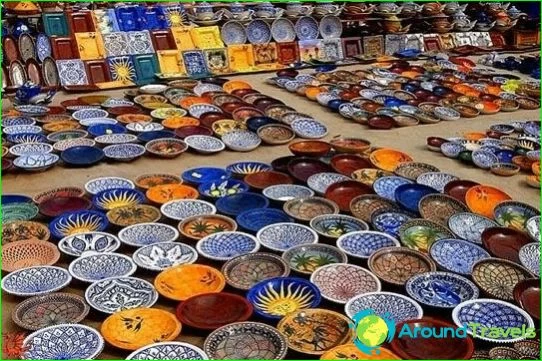 Tunisia is a country with a rich history and wonderful beaches. While vacationing in Tunisia, you will want to bring something in memory of this country. You can shop in state-owned chain supermarkets «MONOPRIX» and «GENERAL», they are present in all cities visited by tourists. In these stores, prices are fixed. You have to bargain in the markets and shops, the price is reduced significantly - three to five times. Alcohol can only be bought online «GENERAL», the best wine in Tunisia is considered «Magon». And you should not buy gold in Tunisia - it is of low purity, and the price is almost like at home.
Popular shopping

In Tunisia, tourists are attracted by leather goods - shoes, bags, wallets, leather clothes. Since most of the products are locally produced, you have the opportunity to get an item, albeit an unknown brand, but exclusive. It is better, of course, to buy things in large stores, where the quality of the goods will be better, it is possible to sew clothes to order in 2-3 days.
Tunisian woolen, silk, cashmere carpets - some of the best in the East, mostly handmade. «Kilim» - thin lint-free woven woolen carpet, its pattern is traditional geometric, plant or with images of gazelles and camels. Carpets «mergum» decorated with a pattern in the form of rhombuses and triangles on a red background. Long, narrow, short-pile knotted carpets «gtifa» keep the ancient traditions of carpet weaving. Berber carpets are simply luxurious - from white unkempt sheep wool, with a very long pile, with traditional patterns and images of animals, people, plants from black or green wool. Only natural dyes are used. All carpets must have a seal and a quality certificate.
Food and delicacies. As a useful souvenir, you can bring olive oil, it is very good here. For those with a sweet tooth, buy oriental sweets and nuts - inexpensive and many different types, dates (you can in a souvenir box), for lovers of hot - spicy delicacies - habissa, pickled spicy eggplants and peppers in jars. When mixed with olive oil and spread on bread, it's delicious..
Ceramic plates, vases, candlesticks, wall tiles, embossing, wooden masks, jewelry, hand-embroidered pillowcases, camel toys of all stripes and sizes - all this can be bought in the markets or right on the beach, merchants will find you themselves.
It is worth noting that local money is prohibited from being exported from the country, it is better to spend it on gifts for yourself and your loved ones.
Photos of Tunisian goods, shops and markets