Things to do in Istanbul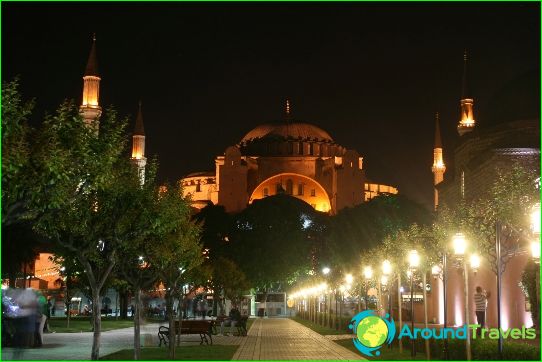 Entertainment in Istanbul is excellent shopping, a Bosphorus cruise, fishing on the Galata Bridge, a romantic dinner at the Maiden Tower restaurant.
Amusement parks in Istanbul

"Tatilya": in this amusement park, children will be delighted with the playrooms and attractions, music lovers - musical performances in the amphitheater, gourmets - the presence of 6 restaurants.
The theme park "Jurassic Land" ("Jurassic Park"): here you can watch a movie with special effects about ancient animals, look at the bones and skeletons of dinosaurs, "talk" with moving models of dinosaurs (there are about 70 of them).
What entertainment in Istanbul?
Regulars of nightclubs should pay attention to "Crystal" (here you can meet the best DJs of Turkey and Europe and have a great time at fiery parties) and "Reina" (a dance floor, club zones and restaurants await visitors here).
The list of must-see places in Istanbul should include "Miniaturk": here you will see copies of the sights of all Turkey in a miniature format. To listen to the description for each monument, you need to attach a ticket with a barcode to it - during the purchase, the cashier should be told which language you are interested in (6 languages ​​are offered, including Russian). It is worth noting that young visitors can ride through the park on the Miniaturk Express mini-train..
Do not ignore the "Jan Geyran Sea Shells Center" - its exposition is subdivided into various topics, getting acquainted with which you will watch the video, learn about the history and classification of shells of sea mollusks, and how people use them (as food, decoration , medicines, musical instruments).
Entertainment for kids in Istanbul

Aqua club "Dolphin": there are children's pools with slides and giant slides, as well as conditions for playing tennis and water polo.
In addition, you should come here to watch the performances of seals and dolphins..
Oceanarium "Turkuazoo": here your children will see giant stingrays, piranhas, octopuses, watch a documentary about the underwater world, go on an underwater safari on an escalator that runs through a special tunnel.
"Magic Ice": This Ice Museum has several sections - in the Vitamin Bar you can taste the juice from an ice glass, in the Ice Room you can see tables, chairs and other furniture made of ice, and in the Viking Hall you can see ships, dwellings and Viking statues.
On vacation in Istanbul, you can visit the Blue Mosque and Suleymaniye Mosque, climb the observation deck of the Galata Tower, admire the "dancing of colors", spend time at the local zoo or dolphinarium.
Istanbul - the city of two continents

Photos