The streets of istanbul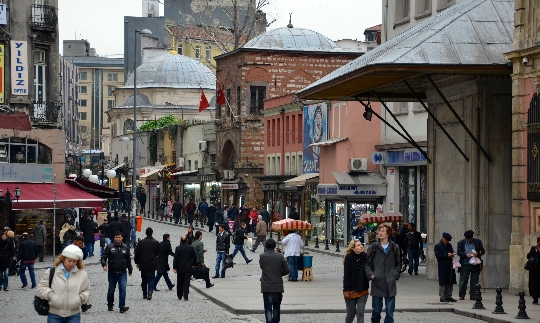 Istanbul is considered the most beautiful city in the world. The city is full of landmarks that have survived from different periods of time. The streets of Istanbul leave an unusual impression, as they are a mixture of different styles. Many streets are winding and winding. The city itself is located in an area of ​​hilly relief, which is reflected in the architecture. The streets are located at different levels, which are connected by stairs. It is very difficult to navigate the city, even if there is a detailed map. The building you need is hard to find at the address.
Istiklal
This Istanbul street is reminiscent of Fifth Avenue. On Istiklal there is a Flower Passage, various galleries, clubs and shops. The street is considered the symbol of Istanbul and the busiest place in the city. To feel the atmosphere of the metropolis, it is recommended to walk along it.
Along Istiklal Boulevard there are:
Galata Tower with an observation deck at a height of 60 meters;
The most popular cafe in the city, created in the 19th century;
An interesting quarter of antiques;
Art galleries,
Unique architectural objects in the Art Deco style.
Istiklal is considered the soul of the city. The street is located in the most popular and party place in Istanbul.
Baghdad street
Baghdad Street is located in one of the Asian districts of the city. It is the center of the city's trade. Previously, the length of the highway was 6 km. The street was formed on the site of the road connecting Anatolia with Constantinople. After the construction of the Bosphorus Bridge, which connected the Asian and European parts of the metropolis, the street gained popularity. Today it attracts fans of entertainment and shopping. It is famous for its prestigious galleries, shopping malls and boutiques.
Sultanahmet
The historical center of Istanbul, as well as its main square, is called Sultanahmet. This area is located on a promontory between the Sea of ​​Marmara, the Bosphorus and the Golden Horn. The historical sights of the city are concentrated here. Among them are the Hagia Sophia Cathedral, the Blue Mosque, antique columns, the obelisk of Feodosia, a majestic fountain, etc..
Nisantashi
The most expensive and beautiful area of ​​Istanbul is Nisantasi. Life is in full swing here on weekdays and holidays. The appearance of the region is close to the western one. There are old buildings among the modern buildings. The area includes Vali Konai, Teshvikie and others streets. Nisantashi is famous for its luxury boutiques.
Photos of the streets of Istanbul