Diving in Turkey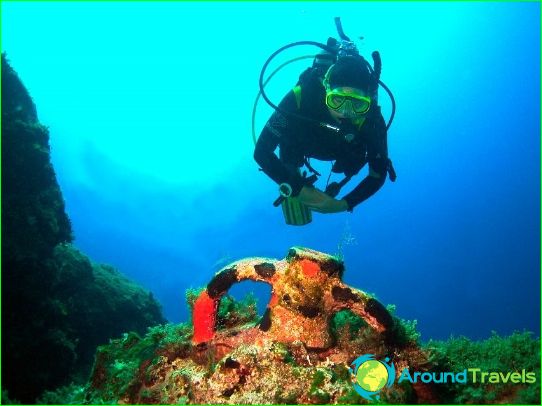 Diving in Turkey is impossible without an international certificate confirming the completion of the relevant training. But the dive sites in this country are great, so it's worth getting this document..
Marmaris
There are over 50 great dive sites here. The Aegean Sea in this area conceals in its depths the remains of an ancient civilization. Here you can admire not only the coral gardens, but also see the ancient ruins, miraculously preserved for such a long time..
Bodrum
Bodrum's water area has twelve official dive sites. The waters here are incredibly clear, so even when diving to 30 meters, there are no problems with visibility. In summer, the waters warm up to a comfortable +27. You can dive all year round, the diving season is open from the end of April.
The most popular place is Orak Island. Numerous underwater caves and a sheer wall extending to a depth of one hundred meters attract many scuba divers here..
The depths of the sea near the island of Kechek will be extremely interesting for lovers of antiquity, because here you can swim among the ruined ancient villages.
Dardanelles
The dive sites of the water area located near the Gallipoli Peninsula will be extremely interesting for history buffs. The local bottom is almost completely covered with wreckage of ships and aircraft from the First World War. They are vivid evidence of the unsuccessful joint Anglo-French military campaign against the Turks. Particularly interesting in this regard is the Chinakkale area and the waters right up to Salwa Bay.
The seabed near Kemikli became the last refuge for the military "British", who sank just 27 meters from the coast. And today you can still wonder what is in the Lundy's hold, as it remains virtually untouched..
Divers also love to dive on an unidentified warship that sank near Anzac Bay. The popularity of this dive site is due to its proximity to the beach area..
Canakkale
It is a port city with many diving spots in the vicinity. Divers pay special attention to the British warship Majestic, which sank to the bottom back in 1915. But in order to inspect the ship, you must obtain the appropriate permit..
There are several popular dive sites near Chinakkale and one of them is Saros Bay. It hides in itself a huge North Antalya fault. Many come to see it, since it is not long to get here from Istanbul. The waters of the bay are very clear and therefore the visibility is always excellent. Sea turtles have chosen the waters of Saros as their home. Sometimes you can even meet a Mediterranean seal.
Photos