Tours in Abu Dhabi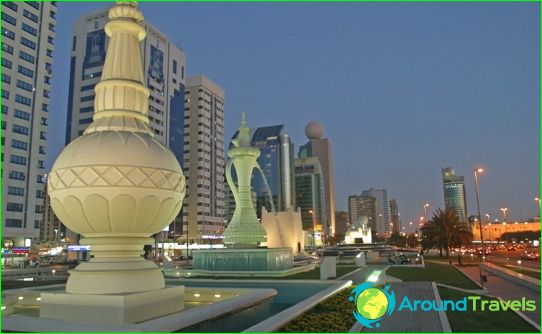 It is Abu Dhabi that is the official capital of the United Arab Emirates and the largest commercial and cultural center of the country. Its population is approaching a million, and tours to Abu Dhabi have recently become more and more popular with Russian travelers..
History with geography
Settlements on the site of today's capital of the Emirates existed five thousand years ago. Abu Dhabi appeared on the map in 1760. Legend has it that the hunters chased the gazelle for a long time, which eventually led them to a fresh water source. The beautiful animal was given life, and the city was given a name that means "father of a gazelle" in Arabic.
The island, where Abu Dhabi is located, is connected to the mainland by several bridges. It is washed by the waters of the Persian Gulf, the temperature of which does not drop below +22 even in winter. In summer, the sea warms up to +30 degrees.
Briefly about the important

The desert tropical climate makes the city one of the hottest on the planet. Tourists in Abu Dhabi should know that the most favorable season for traveling here is early spring and autumn. By May, the air can warm up to +37, and in the summer months, thermometer columns often storm the 50-degree mark..
Bus stops in the city are air-conditioned, and from the central bus station you can travel to other cities in the emirate. The subway in Abu Dhabi is still under construction, and the main transport is a taxi.
On the artificially reclaimed island of Yas Marina, a track was built for the Formula 1 stage. Tour participants in Abu Dhabi can become spectators of the Grand Prix in the fall.
Among the most famous sights of the capital of the Emirates are the Ethnographic Village Museum-Park, which tells about the life and customs of the indigenous population, and the huge Ferrari amusement park, built inside a giant building.

Miracle of the East
The most beautiful pearl of oriental architecture is the Sheikh Zayed Mosque. It began to be erected at the end of the last century, and by 2007 the attraction had no equal in luxury and grandeur. Going on tours in Abu Dhabi, it is worth making a visit to the Sheikh Zayed Mosque in the list of mandatory excursions.
The building can be attributed to other "very-very" buildings in the UAE. The mosque's floor is covered with the world's largest carpet, and its chandelier weighs about 12 tons. It is adorned with Swarovski crystals and gold leaf and also has no equal in the world for the largest.
Abu Dhabi - A place in the sun

Photos