Water parks in Abu Dhabi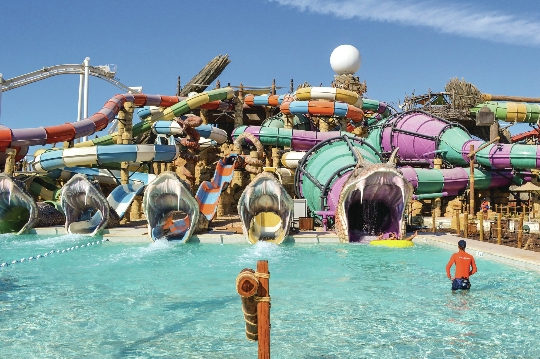 The water park in Abu Dhabi will not leave indifferent any family member, regardless of age, because it is famous for 43 attractions and all kinds of entertainment. In addition, it was created according to an original plot based on a local legend (it is connected with the story of a local girl who is looking for a pearl to bring prosperity to the inhabitants of her village), which cannot but attract the attention of visitors.
Water park in Abu Dhabi
Aquapark "Yas water world" pleases guests:
Village "Qaryat al jewana" (those who wish are invited to participate in an interactive treasure hunt);
"Bubble's Barrel" (surfers will love the artificial flat 3m wave);
"Dawwama" (this is a water slide with a tornado effect that "sucks" desperate visitors), "Pearl dive" (the attraction involves a dive with a diver behind a shell - if there is a pearl in it, you can take it with you as a gift), a loop "Liwa" (water slide, "swirling" into the whirlpool of anyone who dares to experience it), "Bandit bomber" (guests riding this 550 m long roller coaster are allowed to pour barrels of water onto the guests below and shoot them with water pistols), "Falcon's Falaj" (this attraction, 300 m long, invites guests to make ascents and descents on 6-seater inflatable mats), Slither slides's Slide (attraction of 6 slides-tubes in the form of snakes, with turns, laser and light special effects);
playground "Mara Fortress" with 6 slides, water cannons, a geyser, overturning tubs of water;
the rivers Al Raha River and Yadi Yas (riding along these rivers with a current on a circle, you will be able to swim past numerous caves and waterfalls);
cafes and restaurants.
The cost of an adult ticket is 225 dirham (Premium - 325 dirham), and a ticket for children - 185 dirham (Premium Junior - 265 dirham); rent of towels and storage cells - 30 dirhams for each service. It is worth noting that a ticket belonging to the Premium category implies a Fast Pass - those who buy this ticket will receive a pass to the rides and slides without a long wait.
Water activities in Abu Dhabi
To be able to splash in the pool every day, travelers should stay in hotels with pools - in "Khalidiya Palace Rayhaan by Rotana", "Le Meridien Abu Dhabi" and others.
Interested in a beach holiday? At your service - City beach with free and paid areas: some of them have showers, changing cabins, sun loungers, sports areas, cafes. And after the beach, you should visit the Family Park, where there are playgrounds, picnic areas and sports..
If you are interested in fishing, you will be offered to go to the Persian Gulf by boat with a group of professionals - you can catch tuna or barracuda.
Photos