Holidays in the UAE in July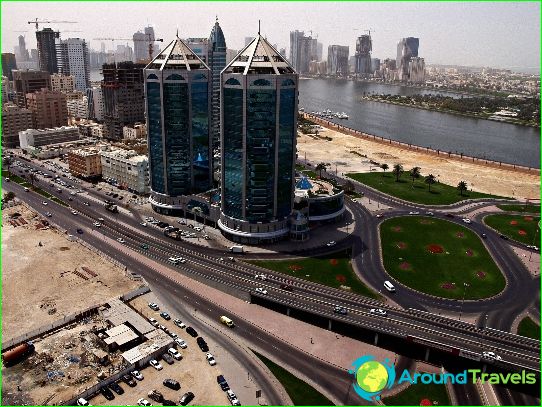 This Middle Eastern state surprises every tourist crossing the border. The UAE leaders have a clear desire to catch up and overtake the leaders of the tourism business. Moreover, the construction of facilities intended for recreation and entertainment is proceeding by leaps and bounds..
The only thing that can interfere with holidays in the UAE in July is the weather. The heat, combined with high humidity, does not favor the influx of tourists to the coast. But amazing excursion programs and purchases attract many residents here from different countries..
July weather
In nature and in weather, the United Emirates is ahead of the rest in July. Anyone who wants to set a personal record for visiting the hottest country on earth must quickly buy tickets here. Most «chilly» in Dubai, here about +40 ºC, in Abu Dhabi and Sharjah +41 ºC. The coast of the Persian Gulf at night pleases with a temperature of +28 ºC.
High humidity adds its minus to rest. Those who have heart disease should avoid traveling to the UAE, parents with young children should also choose other destinations..
Music of water
On hot sunny days, people tend to get closer to water, in any of its manifestations. But even an evening meeting with a water source created by the hands of local craftsmen will give you amazing, colorful impressions. Therefore, thousands of curious tourists gather to the Dubai musical fountain to see with their own eyes the enchanting spectacle of water, light, sound.
This fountain is the world record holder in height, the jet soars up 150 meters. Fascinating action is complemented by 50 colored spotlights and thousands of other lighting sources.
Looking for winter
Only engineers and builders from the United Arab Emirates know how to quickly and beautifully bring to life a transcendental fairy tale. Thanks to them, a ski resort suddenly appears in the heart of the desert..
Many tourists go to hot countries in winter to meet the New Year holidays in an exotic setting. Here the situation is completely opposite: a UAE visitor arriving in the hottest month will find himself in a winter fairytale..
This is possible in a shopping center called «Mall of the Emirates», it is here that the only chic ski complex in the Middle East is located, which received the name «Ski Dubai». A tourist who adores mountain skiing can use any of the five slopes and go snowboarding. Beginners are sure to be provided with the services of instructors, animators are engaged in children.
Vacation photos in the UAE