Holidays in the UAE in September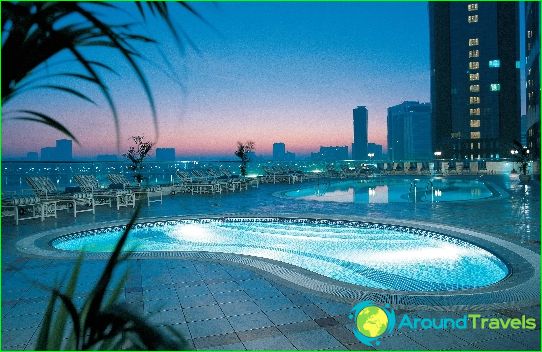 September in the UAE does not at all resemble autumn, because its weather is comparable to summer in Russia. Comfortable weather conditions can really please, because the humidity level gradually decreases and temperature extremes recede.
The temperature regime in the UAE is not uniform. Abu Dhabi is the hottest part, because the air warms up to +40 - 41 degrees, and only in the last decade there is a decrease of 3 - 5 degrees. In Dubai it can be +38 - 39C. The lowest temperatures are established in Fujairah, located on the coast of the Gulf of Oman, and they are + 36C. By the evening, the air cools down to +25 - 26C, but in Fujairah - only up to + 30C.
There is almost no precipitation, so September is usually considered a dry season..
Holidays and festivals in the UAE in September
The International Exhibition ADIHEX is traditionally held in Abu Dhabi in September, which is accompanied by various interesting expositions, offers and competitions. Visitors can buy new sports equipment, items for hunting, camping and regular equestrian sports. In addition, there is the opportunity to get acquainted with horse riding, falconry and fishing, which are traditional sports in the UAE. ADIHEX allows you to familiarize yourself with arts and crafts and the best Arab weapons. At auctions, it is customary to offer the best horses, camels, saluk (Arab greyhounds), falcons. The coffee dall competition, which is traditional for the Bedouin, can generate real interest among guests. Fun time guaranteed!
In Dubai in September, sailboat races are held, which are known as the dhow. The first Al Ghaffal races took place in 1991. Since then, this event has become a tradition. Participants of the competition must pass the course, the length of which is about 86 kilometers. Spectators can watch the participants from the Dubai ferry, which accompanies the athletes at a minimum distance.
Holidays in the UAE in September is an opportunity to spend time interestingly, but you should count on the fact that the cost of vouchers remains the same as in the summer. In the second half of September, temperatures become more comfortable, therefore, tariff increases are possible..
Vacation photos in the UAE