UAE Tourism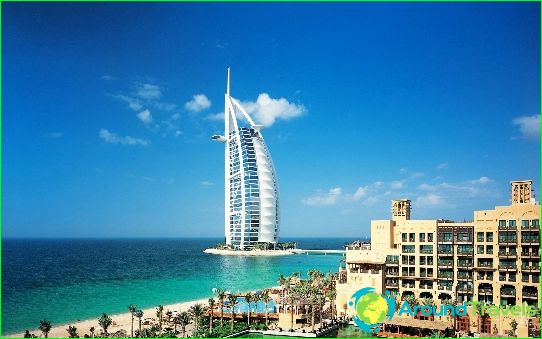 The wealth and splendor of the United Arab Emirates amaze tourists at first sight, they know how to surprise and delight. And here they do not stop there, big plans are replaced by even broader projects. Ideal beaches and a transparent sea, an underwater kingdom filled with wonders and masterpieces of architectural thought, oriental bazaars with their indescribable flavor and ultra-modern shopping complexes.
That is why tourism in the UAE has great prospects, the number of curious guests will continue to increase every year. And this despite the rather high cost of living and flying.
Fly, sail, ride
In the United Arab Emirates, like no other country, all types of transport are represented. Therefore, a tourist can afford to travel around the country on a private plane or helicopter, choose any floating means or give preference to his favorite car..
There are also two subway lines in Dubai, and their zest, for example, a female taxi or the so-called abras, traditional boats, water taxis.
Real masterpieces
In the UAE, an inquisitive tourist will find many worthy objects to worship and admire. But there are among them the most important attractions included in the program of almost every guest of the country, including:
the famous Burj Khalifa, which really touches the sky with its 124th floor;
the most extraordinary fountain in the world that can move beautifully, creating an amazing dance - the play of light, water and music;
Sharjah museums, among which it is difficult to determine the main.
Everything is quiet
A tourist can absolutely not fear for his well-being and safety while on vacation in the UAE. Crime is over here, but other surprises await the guest of the country, often not entirely pleasant. For example, the lack of alcohol, clothing requirements, special attention is paid to the wardrobe of lovely ladies. Topless sunbathing will have to be left for other resorts in the world, bathing suits are allowed only near the sea or pool. No matter how gorgeous a tourist looks, she will have to hide beauty under a long dress.
Paradise vacation by the sea
In the Emirates, you can relax on the coast of the Oman and Persian Gulf, which the locals patriotically christened the Arabian. Special buses and taxis usually run to the beaches from the center. Local resorts are striking in their cleanliness and well-groomed. The main beach activities are bliss and relaxation, sun and sea baths. Wide prospects for lovers of underwater flora and fauna.
Photos