Airport in Manchester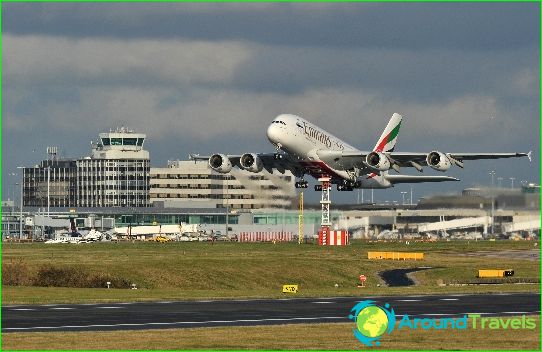 Manchester Airport is located approximately 15 kilometers southwest of the city center. It is the main airport of Greater Manchester and is located on the border with Cheshire.
At the moment, the airport in Manchester has 2 runways, which are parallel to each other and have a length of 3048 and 3660 meters. The airport is controlled by the Manchester Airport Group, which owns most of the UK's airports.
Every year, more than 20 million passengers are served here - this is the 4th indicator in the country, as well as more than 200 thousand take-offs and landings. It is worth mentioning that reconstruction is planned at the airport, after which the capacity will increase to 38 million.
Terminals
The airport in Manchester has 3 active terminals, which are interconnected, which allows passengers to move freely between the terminals. The first and third terminals are located in the same building, and with the second they are connected by a covered walkway equipped with a travelator. In addition, the same covered walkway connects the terminal with the railway station and the Radisson hotel..
Terminal 1 is used to serve international routes. Regular and charter flights depart from here. It is the oldest terminal, opened in 1962. It has 24 exits, 18 of them are equipped with bridges. Today the capacity of this terminal is more than 9 million passengers..
Terminal 2 is also used for international flights. This terminal is served by such airlines as Air France, Air Malta and others. 14 out of 15 exits of this terminal are equipped with bridges. The carrying capacity is about 8 million passengers per year.
Terminal 3 was opened by Princess Diana and was originally called British Airways. It was this company that first started using the terminal. 14 out of 18 exits are equipped with bridges. Terminal 3 has a capacity of approximately 5 million passengers per year.
Transport
There are several ways to get to Manchester from the airport:
On your own - the city can be reached in about 20 minutes, following the M56 highway
Bus - Skyline buses leave from the airport around the clock, every 30 minutes
Train - as mentioned above, the terminal is connected to the railway station. From here, trains leave for the station in Manchester Piccadilly.
Photos Manchester airport