Taxi in London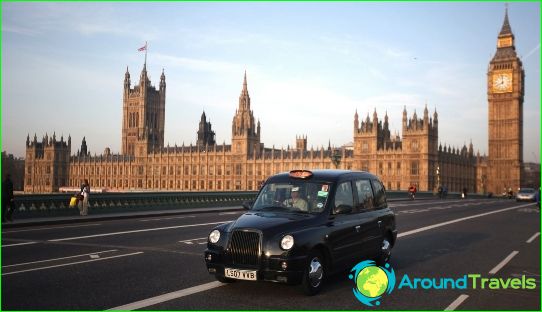 A taxi in London is quite expensive, but if you are on a budget, you should use its services at least once, because London cabs are the same city attraction as Tower Bridge or Big Ben.
Features of ordering a taxi in London
There are many ordinary taxi companies operating in the city, so you can take a taxi in London from the taxi ranks (they are located near hotels and near the main attractions) or call it in advance..
It is easy to find out if the driver is free - a sign on the roof of the car will glow in yellow "ForHire".
You can order a taxi by calling the following numbers: +44 (844) 800-66-77 (EddisonLee); +44 (207) 272-02-72 (RadioTaxi); + 44 (519) 657-11-11 (YellowLondonTaxi).
Black cabs
There are about 25,000 black cabs running around the city, but not all of them are painted black (they can hold 5 people). It should be noted that all of them are equipped with child seats and places for strollers and wheelchairs..
Using the services of such a taxi, you will not only get to the desired destination, but also during the trip you will learn a lot of interesting things about the sights of the city that you will pass along the way (the drivers are not only polite, stress-resistant and know the city very well, but they are also tour guides - they attend special courses for 3 years).
The fare in such a taxi is more expensive than in mini-cabs (drivers of the latter are not allowed to pick up passengers on the street).
Taxi cost in London
Is it important for you to know how much a taxi costs in London? To get an idea of ​​the prices, study the following information about the rates:
Tariff 1 (weekdays, from 06:00 to 20:00): the first 250 m costs 2.4 pounds, and the next 130 m - 20 cents, but as soon as the meter displays more than 17 pounds, 20 cents will cost all subsequent 90 m.
Tariff 2 (weekdays, from 8:00 pm to 10:00 pm): for the first 200 meters you will pay £ 2.4, for the next 100 meters - 20 cents, and after reaching the amount of 20 pounds, every 90 meters you will pay 20 cents.
Tariff 3 (holidays, as well as any day from 22:00 to 06:00): the first 166 m are paid at a price of 2.4 pounds, each subsequent 85 m - 20 cents, and as soon as the amount on the counter shows more than 25 pounds , every 89 m will cost you 20 cents.
Payback with a taxi driver in the capital of Great Britain is peculiar (travel is paid exclusively according to the meter readings) - you need to get out of the taxi, and then stretch the money through the side window (if you wish, you can leave the driver at "tea" 10-15% of the total).
It should be noted that you can pay both in cash and by card, but this should be clarified in advance..
If you do not speak English well, do not know the city at all and want to drive around London in comfort, local taxi services are what you need.
Photos of taxi in London