Beaches in Poltava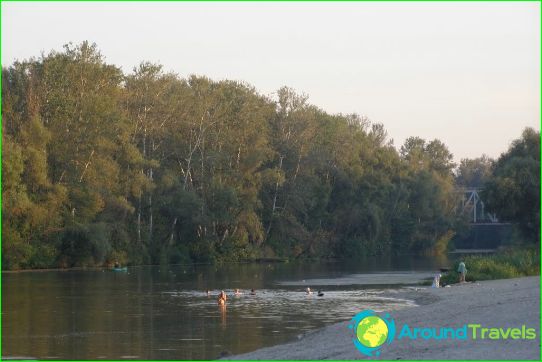 A vacation on the territory of Poltava is good only because you don't have to spend too much money on organizing it. The beaches of Poltava are open to everyone and tourists who are ready for new impressions, and the opportunity not to spend all the half-year savings makes such a vacation even more attractive.
Base "Pleso"
In Poltava there are a large number of recreation centers on the Vorskla River. For example, the base called "Pleso", which is located on the left bank of the river, is quite popular. The length of the sandy local beach is only 90 m, but this is quite enough for a comfortable stay. Up to 200 vacationers can be on the beach at the same time, but there is almost never a 100% occupancy here. Every two years, the sand is changed here, so it does not have time to get very clogged. Before the start of the season, the sandy surface is leveled and plowed. Workers clean the beach daily.
The safety of holidaymakers comes first here. Sewage drains never get into the local water, and any household waste is removed very quickly. The descent into the water is very convenient here: gentle and smooth. Before the season starts, divers always carefully examine the bottom to make sure the bathers are safe. That is why at the bottom you will not stumble upon a large rock or a shard of a bottle, which makes the local beach ideal for families. The base guards are also professional rescuers..
For a small additional fee, comfortable sun loungers are provided for the whole day. Showers and toilets with changing rooms are absolutely free here, everyone can use them. A small bar is open until late, where you can have a snack and cool off.
Recreation center "Bereg"
The best sandy beaches of Poltava are scattered across its territory, and one of them is located just at the recreation center "Bereg". It was built near the Dneprodzerzhinsky reservoir, and its territory is almost 4 hectares. The setting of the complex is quite cozy, because it is almost entirely made of wood. However, modern equipment does not allow you to forget about the wonders of civilization and makes it possible to do active rest at any time..
The complex consists of the following parts:
wooden houses;
hotel;
conference hall;
saunas;
Guarded parking;
bakery, fish-smoking workshop - everything you need to operate a local restaurant.
The recreation center "Bereg" will allow you not only to have a good rest and sunbathe, but also to remain alone with nature and admire the natural landscape untouched by a human hand. The local beach will give vacationers a real pleasure in the bosom of nature.
Photos of Poltava beaches