Prices in Ukraine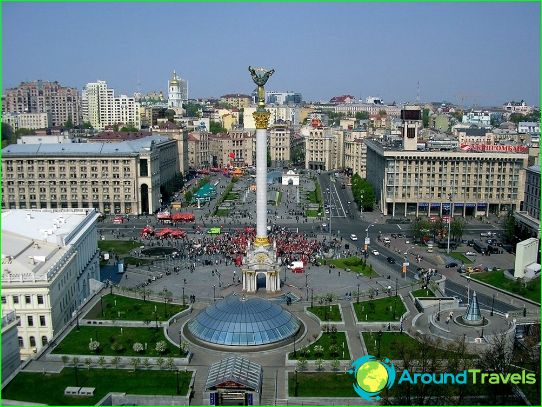 Prices in Ukraine are quite reasonable: having come here on vacation, you will not have to pay for a long flight and an expensive visa. You can relax here inexpensively, but for food in Ukraine you will have to pay almost as much as on vacation in Russia.
Shopping and souvenirs
You should start your shopping route in Kiev from Pushkinskaya Street - here in the luxury boutique Villa Gross during the sales season you can buy items from the brands Nina Richie, Stella McCartney, Carolina Herera with a 50% discount.
From Ukraine you should bring:
clothes of world brands (many boutiques and shopping centers are open in Kiev, as in any European capital);
amber products (boxes, figurines, figurines, ornaments);
chocolate, sweets of Ukrainian manufacturers, Kiev cake;
alcoholic souvenir - vodka and mead (they should not be bought "off-hand" - only in specialized stores).
Men from a trip to Ukraine can bring their other half a ring or a silver bracelet decorated with amber (the cost of such a gift will be 50-200 euros).
Tours
On vacation in Ukraine, you can go on a one-day bus excursion "Tripoli and the Grand Canyon in Buki village" (starting point - Kiev). During this excursion you will visit the Kiev Archaeological Museum, climb Divych Mountain, have a snack in nature in a picturesque place, relax and enjoy the views of the unique canyon of Ukraine, swim in the cool waters of the Gorny Tikich River. The approximate cost of the excursion is 350 hryvnia (the price does not include meals).
And if you wish, you can go on an excursion to the "Radomysl Castle", during which you will visit the Museum "Soul of Ukraine" (objects of the spiritual history of Ukraine are collected here - 5000 icons) and the Radomysl Castle. The approximate cost of the excursion is 300 hryvnia.
Entertainment
A visit to the capital's theaters will cost you 40-300 hryvnia. But tickets to Kharkov and Dnepropetrovsk museums and theaters will cost you a little less, and the richness of the programs will be no worse than Kiev.
With children in Kiev, you should go to the Aquapark: here you will find water attractions, slides, artificial waves and other entertainments. Entrance fee - from 120 hryvnia.
You should definitely go to the Kiev Planetarium Atmosfera - having paid for the entrance ticket 120-180 hryvnia, you can watch the magic spherical cinema and play the original interactive slot machines.
Transport
For travel on a bus in Ukraine, you will pay about 5 hryvnia, and in a minibus - 6-7 hryvnia.
Your daily spending on vacation in Ukraine will be from 700 hryvnia per person (excluding the cost of living).
Where not to rest in Ukraine?

Photos