Da Nang districts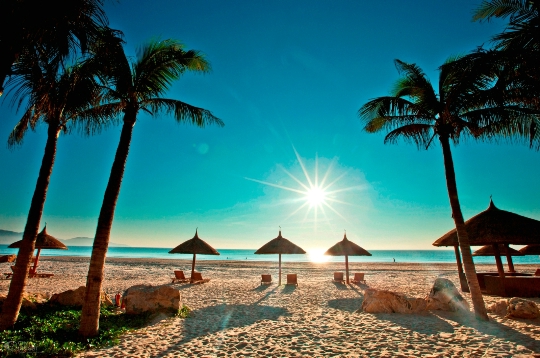 Are you interested in the areas of Da Nang? Look at the map - after reading it, you will see that Da Nang is administratively divided into 6 districts and 2 counties (Hoangsha, Hoavang).
District names and descriptions
Hai Chau: guests can go to inspect the city hall, as well as visit the theater (you will see a performance based on traditional folklore stories - it will be accompanied by the sound of folk music) and at the market (people rush here to buy seafood, clothes, fruits, accessories and other goods; keep in mind that sellers inflate prices for tourists).
Ngu Hanh Son: interesting with a complex of 5 mountain ranges (each has a name corresponding to 5 elements - metal, water, fire, earth, wood). You can find local guides near the mountains, and it is better to use their services for organizing an excursion, since you can get lost in dark caves and grottoes while setting out on your own. Tip: at the foot of the mountains, it is recommended to acquire the creations of local stone carvers (figurines of eagles and ilves, trinkets, figurines of 3 elders, symbolizing prosperity, happiness and longevity).
Son Tra: Popular for its nature reserve, which is home to at least 300 different plants and monkeys, as well as swimming and fishing conditions. As for the excursion program, it is worth visiting the LinhUng Pagoda (famous for the 67-meter statue of the Woman of Buddha).
Da Nang landmarks
On vacation, it is recommended to visit the water park "Danang Water Park" (an area of ​​10 hectares has a variety of water slides, swimming pools, including wave, a restaurant, a garden for walking, a stage where artists entertain guests with their talents), Da Nang museums (the exposition includes 2500 exhibits; at some exhibitions it will be possible to see scenes from the life of the peoples of Central Vietnam; admission is free) and Chamov (12 halls have an exposition with ancient artifacts - so, guests will be invited to get acquainted with samples of skillful stone carving and clay products of the 7-15th centuries; the cost of an adult admission ticket is 30,000 dong ). The China Beach deserves a special mention - here you can sunbathe on the white sand or go surfing (the best time for this activity is September-December).
Where to stay for tourists
It should be noted that the city has both hotels and private boarding houses..
If you are attracted by the beach area, then it is advisable for you to settle in the China Beach area - mainly the best and most expensive hotels have found shelter here, although budget travelers will have plenty to choose from.
Tourists can be advised to stay in one of the Son Tra hotels (they will have a quiet rest, beautiful nature, an ideal background for photographs), for example, in "Son Tra Resort & Spa" (it takes only 20 minutes to get to the airport).
Pictures of Da Nang districts