Season in Da Nang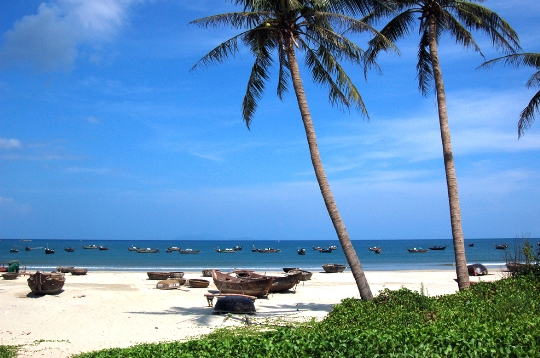 The Vietnamese resort of Da Nang is popular with tourists from various countries. The reason lies both in the fair share of oriental exoticism offered by the local residents, and in the mild climatic conditions, which make it possible to relax on the local beaches not only in the summer season in Da Nang..
About weather and nature
Located on the shores of the warm South China Sea, Da Nang is one of the main resort cities not only in Vietnam, but throughout Southeast Asia. Its climate is characterized as tropical and monsoon, as the weather on the beaches of Da Nang is largely influenced by seasonal winds..
The rainy season in Da Nang starts in early September. At this time, the amount of precipitation increases three times compared to summer indicators, and in October it rains six times more than in summer. The air temperature in September-November is kept at around +23 - +26 degrees, but this warmth, combined with high humidity, makes the stay at the resort problematic for older tourists and young children. Additional problems for recreation in this region in the fall are caused by frequent tropical storms and typhoons, causing large waves along the entire coast..
Spring in Da Nang is the temperature values ​​of water and air within +25 and +27 degrees, respectively, and a small amount of precipitation. During this period, sea waves are almost not observed, and therefore April-May is an ideal period for a vacation with small children or for those who cannot stand the humid heat..
Vietnamese summer
Despite the rather high temperature values, the summer season in Da Nang is pleasant even for those who do not like hot days too much. Although the air warms up to +32 degrees, the relatively low humidity and lack of precipitation make staying on the beaches of Da Nang quite comfortable during this period. Pleasant sea breezes add to the attractiveness, giving coolness. In the summer months, the water warms up to +28 degrees, and therefore water procedures can be long and very pleasant.
On the crest of a wave
For fans of surfing, there is a season in Da Nang. Autumn winds that bring discomfort to ordinary sunbathers are a gift from the sky for surfers. In September, a period of high waves begins, lasting until December, when hundreds of fans to play with the elements step on the board. Autumn in Da Nang is the time for international competitions in this spectacular sport.
Photos