Season in Brazil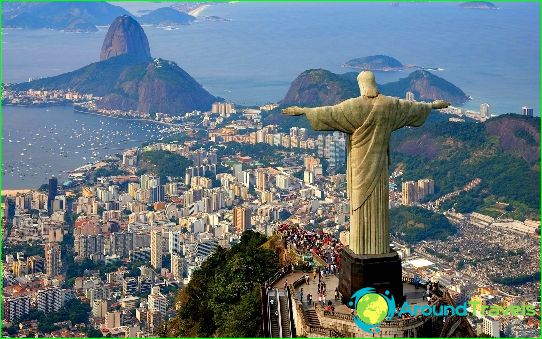 The holiday season in Brazil lasts all year: it is always warm here (the average temperature is + 25-28 degrees). It should be noted that in general, the coast is characterized by high humidity, for the central regions it is drier, and for the mountains and southern regions - cooler weather (in December-January it is rainy and hot - the air can heat up to 40-42 degrees).
Tourist season in Brazil

Spring: Brazilian spring begins in September - at this time tropical showers and stormy thunderstorms can begin, but in spring everything blooms around - orchids, cacti, palm trees, water lilies, hevea. In September (the 7th) it is worth coming for Independence Day - at this time, cheerful folk festivals and a festive military parade are held.
Summer: Brazilian summer is the period from December to March. The main summer holidays are New Years (December 31) and Rio Carnival (February).
Autumn: Brazilian autumn comes in March. Due to the fact that March-April is the harvest season, there are few holidays in the country, but in general, the autumn months can be devoted to excursions or beach vacations..
Winter: Brazilian winter lasts from June to August - during this time it is worth planning a trip through the Amazon jungle, where you can meet jaguars, cougars, howlers, monkeys, sloths, harpies, caimans and anacondas. The "winter" months are ideal for swimming (the water warms up to + 20-24 degrees), as well as for surfing.
Beach season in Brazil
The most favorable time to relax on Brazilian beaches is November-April.
All beaches are sandy and most of them are free. For relaxation, it is advisable to choose the best Brazilian beaches: Copacabana Beach, Ilha Grande Beach, Natal Beach, Jericoacoara Beach, Florianopolis Beach, Parati Beach, Praia do Sancho Beach, Morro-de-San-Paulo Beach, Porto da Barra, Galinas Beach.
Diving
The diving season coincides with the beach season, although if you wish, you can admire the underwater beauty at any time of the year. In local waters you can meet dolphins, sea turtles, sharks, rays, various corals, including rare, huge mushrooms.
One of the best places for diving is the Abrolios Marine Park - the local warm waters are full of fish and corals (the largest underwater coral rock in the world is located here).
You can watch fish and turtles without special equipment on the reef island of Recife das Areias with natural pools.
For diving, you can give preference to the sea caves of Siriba, the island of Santa Barbara, the sunken ship Rosalina (it is at a depth of 20 meters).
Brazil offers luxury hotels, high-quality service, white sand beaches, diving, surfing, sandboarding opportunities.
Photos