Holidays in Croatia in August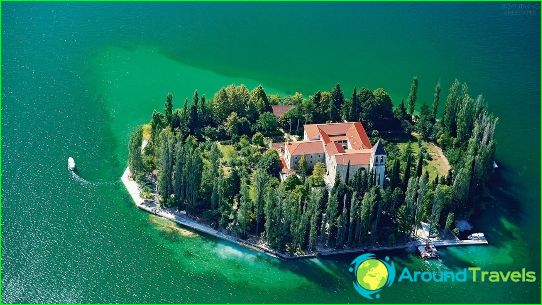 This fairly young and modern European state is already actively managing the list of the largest resort countries, winning its tourist. Here you can see both the snow-capped peaks of the Alps and the rich, lush nature typical of the Mediterranean. Holidays in Croatia in August are attractive for couples, middle-aged and older people.
Rest here is very quiet, calm, beach activities are replaced by sightseeing trips to historical sights. Walks along the seashore in the shade of cozy pine trees are complemented by participation in musical and folklore festivals taking place throughout the country.
Weather in August
Despite the highest air temperatures in the last month of the Croatian summer, there is no end to tourists. Average daily temperature at +30 ºC and higher, respectively, water on the Adriatic +26 ºC.
The increased humidity is quite calmly tolerated by most tourists, especially since the heat is gradually decreasing, rest at the end of August takes place under very comfortable conditions. Rains or showers bring long-awaited coolness and allow tourists to replace beach vacations with excursions or tastings of local cuisine.
To the festival in Dubrovnik
Vacationers near this beautiful city have the honor to take part in the largest international holiday called «Dubrovnik games». Full immersion in history takes place with direct participants and spectators, local residents or guests of the city.
Located in the heart of Dubrovniki, the Old Town with all its palaces, castles, towers and parks is becoming a single concert venue for representatives of different art trends. Opera and drama, ballet and folklore, theatrical performances taking place against the backdrop of ancient walls, present a breathtaking magical spectacle. Another highlight of this festival is the night serenades that excite the hearts of lovers and romantics..
Dalmatian bullfight
This amazingly beautiful sight can be seen in the small village of Radosic, which is located near Split. Fights take place between bulls without the participation of matadors and bullfighters. The field of the future bullfight is fenced off with a simple picket fence, and therefore the public more than once had to flee from angry bulls, who swept away everything in their path. Not a single man refuses to tickle your nerves.
In addition, a strong half of humanity can test their strength in various competitions, among which the main ones are wrestling on a log, tug-of-war, throwing stones at a distance. The funniest competition is the donkey race. It is necessary, sitting on the back of this stubborn animal, without using a saddle and harness to overtake rivals.
Croatia - sights and cities

Photos August holiday