Prices in Dubrovnik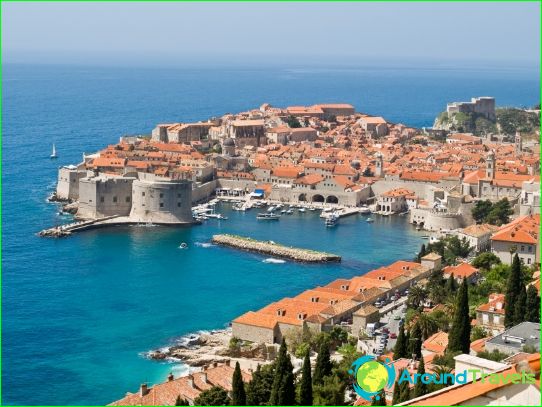 Dubrovnik is considered one of the most beautiful resorts in the world. This Croatian city is notable for its unusual architecture, amazingly beautiful landscapes and clean ecology. The climate here is favorable for recreation, so tourists from all over the world tend to get here. The Croatian kuna is used here as the currency. You can pay for services and goods in US dollars and euros.
Where to rent a house
Accommodation in Dubrovnik is distinguished by high prices. Over time, rest in this resort is becoming more expensive. Today only a wealthy tourist can relax in Dubrovnik. You can rent a double room in a middle-class hotel for 80-110 euros per day. In this case, food must be paid separately. Some hotels offer complimentary breakfast. Young people, in order to save money, prefer to rent places in guesthouses.
The hotels of the highest category are located in the old part of the resort. There are no vacancies there during the high season. Outside the central part, you can find inexpensive and comfortable housing. A room in a 3 * hotel costs from 120 euros. 5 * hotels offer rooms for 220 euros and more.
Entertainment cost
In Dubrovnik, tourists can take advantage of numerous excursions. To visit the fortress walls, you have to pay 12 euros. The admission ticket to the art museum costs € 9 for an adult and € 3 for a child. You can admire the inhabitants of the aquarium for 12 euros. The entrance to the Cathedral of the Assumption of the Virgin Mary is free. It costs 3 euros to visit the Dominican monastery. A one-day excursion from Dubrovnik to the national park on the island of Mljet will cost 230 euros.
As for the beach holiday, the beaches at the hotels are free. You only need to pay for the rent of sun loungers - for 1 piece. take 2 euros. You can rent a car for 45-60 euros per day.
Food in Dubrovnik
Breakfast can be included in the price of your stay. If you plan to rent a room, you will have to cook yourself. Products are sold at the market and in supermarkets. The choice of food is very wide, but the prices are quite high. For example, fruits cost 3 euros per 1 kg, fresh shrimps - 15 euros per 1 kg. Breakfast costs an average of 10 euros per person. You can dine at the restaurant for 30-40 euros. Dinner with local food and wine costs € 50 or more.
What to buy in Dubrovnik
In the Croatian resort, tourists buy various souvenirs, crafts on the marine theme, magnets and other gizmos. They are inexpensive - 1 euro apiece. Olive oil and aromatic oils are popular. You need to pay 5.5 euros for a bottle of olive oil.
Photos