Dominican islands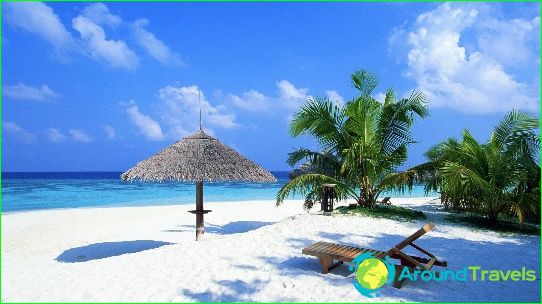 In the Caribbean Sea, there are areas of land with paradise nature - the Dominican Islands. The country occupies part of the large island of Haiti and several small islets. The area of ​​the Dominican Republic is insignificant, but 4 ecological zones and 9 types of climate are recorded on its territory. This feature is reflected in the flora, which is very rich and diverse. More than 8.5 thousand plant species have been found on the islands. The Dominican Republic is the limit point of the Antilles. This is the Peak Duarte mountain with a height of 3087 m.In the west of the country, there is the lowest point - Lake Enriquillo, which is home to many crocodiles.
Natural advantages of the islands
The Dominican Islands are covered with tropical plants and soft sand. Saon Island, discovered by Columbus, is famous for its beautiful nature. There are mangroves, palms, orchids, sugarcane, coffee and cocoa trees. The island is inhabited by iguanas, parrots, storks, turtles, etc. Various fish species can be found in the coastal waters. The territory of Saona is a nature reserve, so there are no hotels on the island. Catalina is considered a very beautiful island in the Dominican Republic. It occupies no more than 15 sq. km. The tropical landscape of the island attracts holidaymakers to it. Catalina is a national natural park. The ideal conditions for water sports are created here. A miniature island is Cayo Levantado, covered with coconut trees and golden sand. Humpback whales gather near the island from January to March. The uninhabited island of Beata is located 7 km from Haiti, where nature has been preserved, untouched by civilization. Previously, it served as a haven for pirates. Today, Beata is home to birds, iguanas and sea turtles. Movement on the island land is difficult due to swampy areas and mangrove plants.
The Dominican Islands are inhabited for the most part by mulattoes. The white race is only 16%, and the Negroid - 11% of the total population. There are many black illegal migrants from Haiti in the country, which often cause unrest in different areas of the Dominican Republic.
Climatic conditions
The Dominican Islands are located in a tropical humid climate. This is a country of endless summer, as the weather here is warm all year round. The air temperature changes insignificantly. The average temperature is +25 degrees. The heat begins in May and lasts until October. During this period of the year, the thermometer often shows +33 degrees. It is cooler at night - about +22 degrees. The country has high humidity, so the intense heat is hard to endure. May is considered the rainiest month. At this time, storms are possible. The water temperature in summer reaches + 29 degrees.
Photos