Excursions in Cancun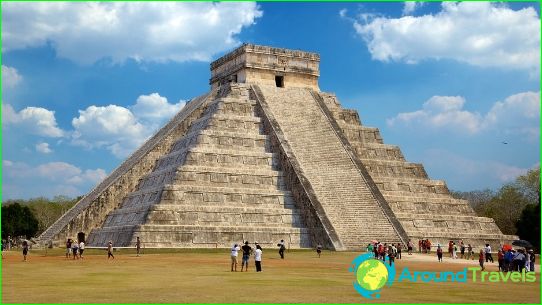 In just 40 years, the city of Cancun has transformed from an ordinary fishing village into a real resort city. This resort is among the top ten in the world. Tours in Cancun are conducted in various languages, including Russian. Prices for sightseeing tours in Cancun are quite reasonable.
Excursions in Cancun, which are worth visiting

Swimming with sharks. From May to September, sea guests appear in the waters of the Gulf of Mexico, who come here in large groups. These are whale sharks - the largest fish from the shark family, which eat only plankton, swim slowly. These amazing fish have a peaceful nature. They never hunt humans. This is a great opportunity to get to know whale sharks better. Probably the most amazing experience you will take with you from Cancun.
Crocodile farm. From the excursion to the crocodile farm, both children and adults get a lot of unforgettable impressions. On this farm, all the inhabitants of the peninsula live in natural conditions. And the most interesting thing is that everyone can communicate directly with crocodiles - hold them in their hands, stroke them or take a picture.
Pre-Hispanic cooking lessons. Indian traditions still excite human minds. People cannot be left alone by the way of life, the traditions of purification and the gastronomic delights of the ancient tribes. This tour combines cleansing rituals and traditional cuisine lessons. You have a great opportunity to see with your own eyes, and also to feel the rite of cleansing..
Wild lakes of the Yucatan Peninsula. Lakes of extraordinary beauty are located right among the thickets of the jungle on the Yucatan Peninsula. The water in these lakes is flowing and clean. The Yucatan lakes are also called the heart of nature. Their water has remarkable rejuvenating and healing powers. There are even legends about the magical properties of these lakes..
Temazcal. Going on this excursion, you will make a real ritual travel in time. Temazcal is a traditional bath of the Indians from the tribes of Latin America - a steam bath on a sacred fire that flares up from volcanic stones.
Swimming with turtles in Yal-ku lagoon. If you dream to plunge headlong into the underwater world of Cancun, then this excursion is exactly what you need. There are not so many places in our world where you can just swim with the oldest inhabitants of our planet - turtles. You have a chance to do it in Mexico in the Yal-ku lagoon.
Cancun

Photos of excursions in Cancun