Airport in Ljubljana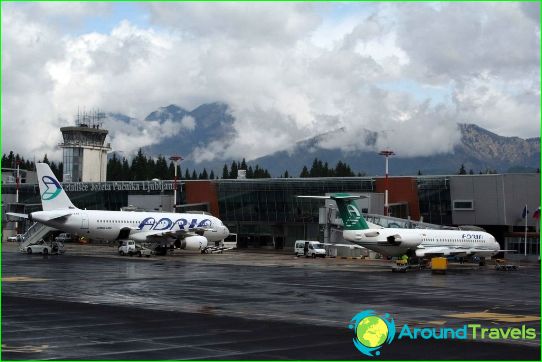 One of the main airports in Slovenia is located in the city of Ljubljana, about 25 kilometers from its center. The airport is named after the Slovenian dissident Jože Pučnik. Previously, the airport was called the nearest village - Brnik.
The airline Adria Airways uses the airport as its base and operates regular flights to cities in Europe. The airport in Ljubljana has only one runway with a length of 3300 meters.
The airport was opened in the 60s of the last century and until 2007 was called the nearest village. Throughout its history, it has won the status of the main international airport in Slovenia. Jože Pučnik Airport serves about 1.5 million people annually..
Services
The capital's airport offers its guests all the necessary services that may be needed on the road. For hungry passengers, there are cafes and restaurants on the territory of the terminal, which will prepare the most delicious and fresh dishes. In addition, guests of the airport can visit numerous shops, including Duty-Free.
Here you can also use the services of luggage packing, luggage storage, ATMs, mail. If necessary, passengers can seek medical help at the first-aid post or buy the necessary medicines at the pharmacy..
There are information desks on the territory of the terminal. You can shorten the waiting time for a flight by using the wireless Internet, which operates on the territory of the terminal..
For passengers with children, there is a mother and child room, as well as playgrounds. There is a deluxe lounge for business class passengers.
For those who like to observe the movement of aircraft, there is an observation deck.   
Transport
As mentioned above, the airport is located about 25 kilometers from the city. Ljubljana Central Station can be reached by shuttle bus that will take passengers to the city in about 30 minutes. The ticket price will be around 5 euros.
In addition, you can use the services of a taxi, which for a moderate fee (about 30 euros) will take passengers to anywhere in the city..
Ljubljana airport photos