Resorts of Slovenia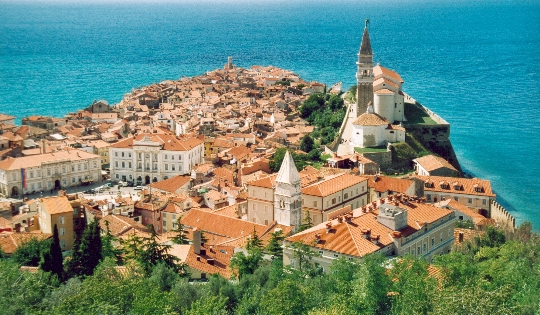 Favorable location on the European map and natural resources, which even the largest countries can envy, make little Slovenia one of the most popular tourist destinations. Almost ninety healing springs made it possible to create on their basis several dozen thermal and medical centers, many of which have been assigned the unique status of natural hospitals. Modern medical programs in Slovenian resorts allow getting rid of diseases of the digestive system, significantly alleviating the condition of diabetic patients and patients with other pathologies of the endocrine glands. Donat Mg, a branded Slovenian mineral water, promotes weight loss and helps with rehabilitation after injuries and surgeries..
Cateske Toplice and Terme Olimia, Terme Ptuj and Rogaška Slatina, Strunjan and Dobrna - any thermal resort in Slovenia is known far beyond the country's borders for its high level of service and the effectiveness of treatment programs.
Port of roses by the blue sea
Slovenia's main beach resort, Portorož, has been famous for its medicinal salts and thermal waters since the 13th century. It was then that the Benedictine monks learned about the wonderful springs, and since then it has been customary at the resort to improve their health, combining water procedures and sunbathing with therapeutic baths and wellness procedures.
Portorož sandy beaches belong to the city, hotels are separated from the sea by a wide promenade. Expensive convertibles, yachts with snow-white sails, effectively illuminated hotel lobbies and the measured rustle of waves - everything here resembles Nice, with the only difference that the prices in the Slovenian resort are completely different, and therefore Portorož is a much more profitable option.
Always in the TOP
For skiers, Slovenian resorts are well-groomed slopes, modern lifts, a variety of slopes and a lot of entertainment:
The Cerkno resort will seem like a real paradise for beginners in skiing. The trails here are ideal for beginners, and the local school instructors speak many languages, including Russian. They will help you get used to the slope even «green» for skiers, and for the convenience of athletes, equipment rental points are open in Cerkno.
Krvavets more than once became the owner «Golden snowflakes» for the cleanliness, comfort and perfect condition of their slopes. There is an excellent ski school and a fun park for snowboarders, and freeride fans can try the local track for «free floating».
Photos